Pfeiffer ATH Magnetically Levitated Turbo Pumps
The ATH-M series are hybrid magnetically levitated turbo pumps. These very sophisticated, high performance, and extremely robust pumps are recognized as the new standard in the world of large turbo molecular pumps. The ATH-M magnetically levitated turbo pumps are clean and dry. The magnetic bearings are frictionless, do not require any grease or bearing maintenance, and can run for years without any interruption on a clean process. This relates to a significantly lower cost of ownership.
Features
• Automatic 5-Axis balancing
• No Bearing Maintenance
• Low cost of ownership
• Minimum Vibration
• Turbo accepts 5 power failure landings at full speed
• Optional Heated Pump Version (MT)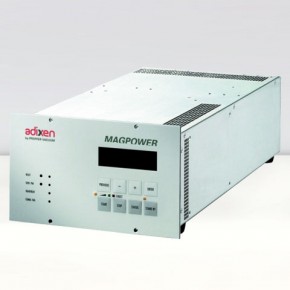 Mag Power Controllers
The Mag Power turbo pump controllers are compact and have highly effective electronic monitoring. They are designed for the ATH-M turbo pumps. Standard features include convenient interface, handy keyboard, digital display for reading rotational speed, pump current consumption, pump and controller temperatures, and complete automatic balancing system. Remote interface available through input/output connections and each unit has RS232/RS485 configuration. Inputs include; pump start-stop, standby, and interlock. Any controller can be switched without a need for tuning or adjustment.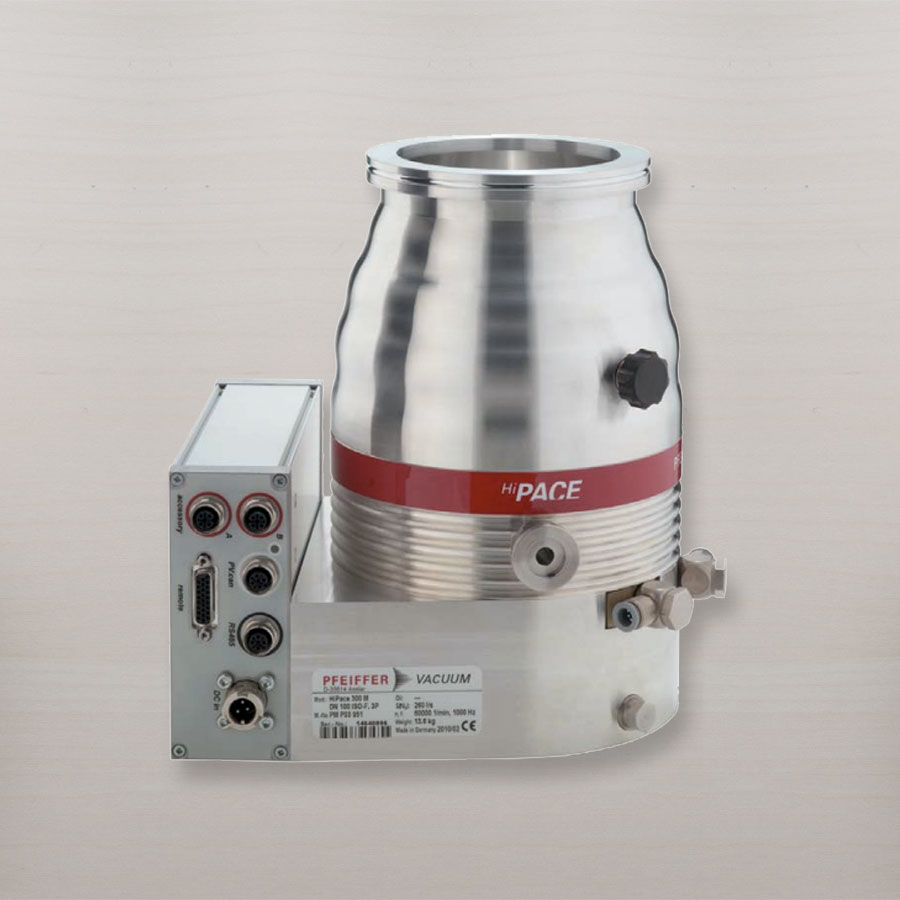 HP300M
Technical Specifications
Inlet Flange:
IS0 100, CF 100
Pumping Speed, L/S (N):
255
Pumping Speed, L/S (He):
215
Pumping Speed, L/S (H):
170
Compression Ratio (N):
10/11
Compression Ratio (He):
10/8
Compression Ratio (H):
10/5
Ultimate Pressure (mbar):
10-10
Startup Time (min):
2
Vibration Level:
–
Orientation:
Any
Backing Pressure (mbar):
20
Outlet Flange:
NW 16
Weight (lb):
29
Price:
$25,422.00
Controller:
DCU400
Controller Price:
$2,487.00
Ordering Information
Turbo Pump Systems ISO
PMP03951
Turbo Pump Systems CF
PMP03952
Controller
PMC01823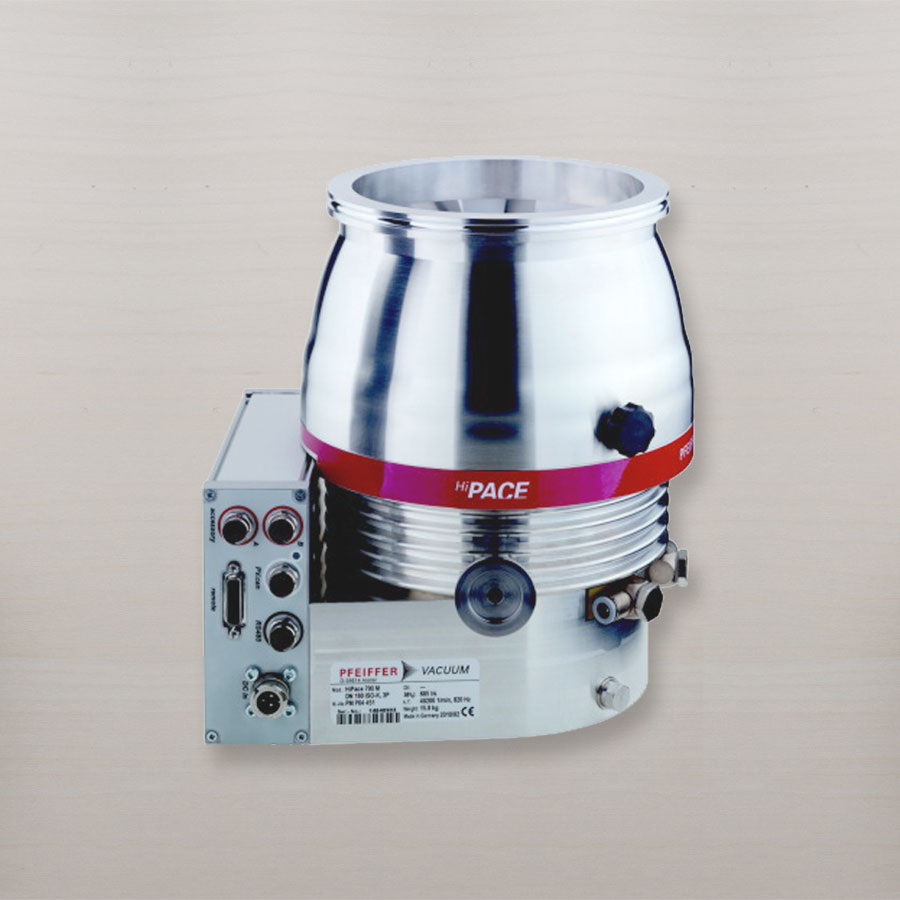 HP700M
Technical Specifications
Inlet Flange:
IS0 160, CF 160
Pumping Speed, L/S (N):
685
Pumping Speed, L/S (He):
600
Pumping Speed, L/S (H):
480
Compression Ratio (N):
10/11
Compression Ratio (He):
10/7
Compression Ratio (H):
10/5
Ultimate Pressure (mbar):
10-10
Startup Time (min):
4
Vibration Level:
–
Orientation:
Any
Backing Pressure (mbar):
8
Outlet Flange:
NW 25
Weight (lb):
37
Price:
$27,027.00
Controller:
DCU400
Controller Price:
$2,487.00
Ordering Information
Turbo Pump Systems ISO
PMP04451
Turbo Pump Systems CF
PMP04452
Controller
PMC01823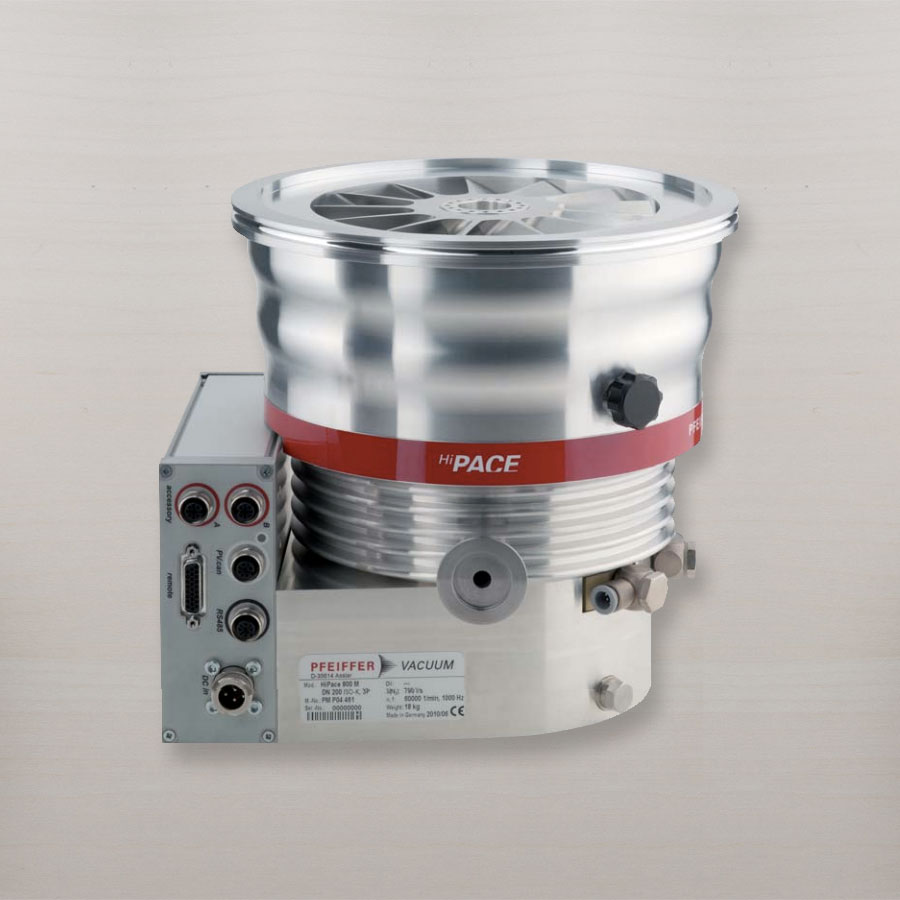 HP800M
Technical Specifications
Inlet Flange:
IS0 200, CF 200
Pumping Speed, L/S (N):
790
Pumping Speed, L/S (He):
625
Pumping Speed, L/S (H):
500
Compression Ratio (N):
10/11
Compression Ratio (He):
10/7
Compression Ratio (H):
10/5
Ultimate Pressure (mbar):
10-10
Startup Time (min):
4
Vibration Level:
–
Orientation:
Any
Backing Pressure (mbar):
8
Outlet Flange:
NW 25
Weight (lb):
40
Price:
$27,472.00
Controller:
DCU400
Controller Price:
$2,487.00
Ordering Information
Turbo Pump Systems ISO
PMP04461
Turbo Pump Systems CF
PMP04462
Controller
PMC01823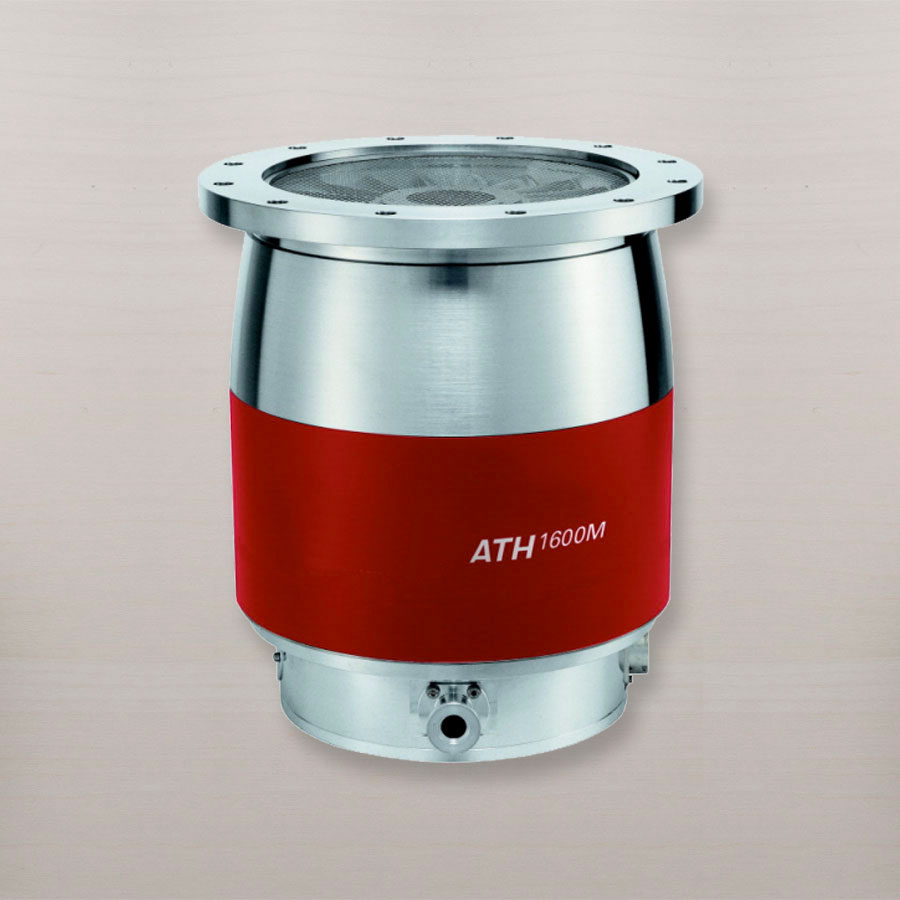 ATH1300M/MT
Technical Specifications
Inlet Flange:
IS0 200
Pumping Speed, L/S (N):
1250
Pumping Speed, L/S (He):
850
Pumping Speed, L/S (H):
550
Compression Ratio (N):
10/7
Compression Ratio (He):
10/3
Compression Ratio (H):
10/2
Ultimate Pressure (mbar):
10-9
Startup Time (min):
10
Vibration Level:
N/A
Orientation:
Any
Backing Pressure (mbar):
2
Outlet Flange:
NW 40
Weight (lb):
–
Price:
$36,585.00
Controller:
MAG POWER
Controller Price:
$9,180.00
Ordering Information
Turbo Pump ISO
M6562103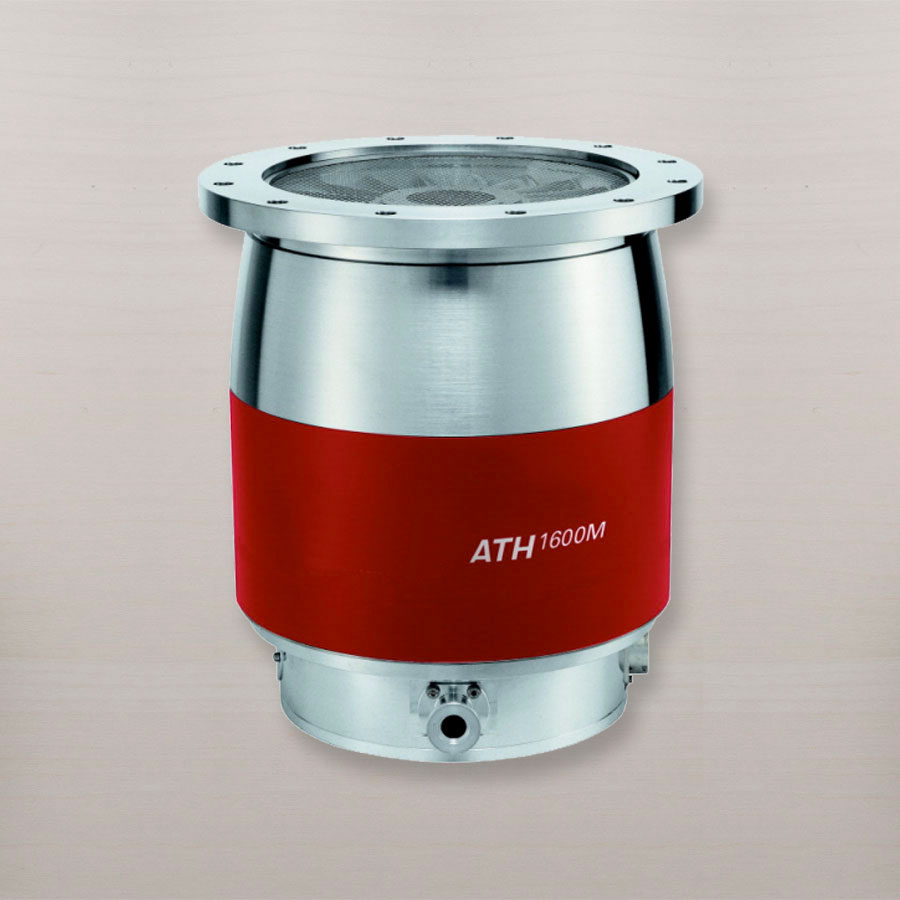 ATH1600M/MT
Technical Specifications
Inlet Flange:
IS0 200, CF 200, ISO 250, CF 250
Pumping Speed, L/S (N):
1500
Pumping Speed, L/S (He):
1150
Pumping Speed, L/S (H):
750
Compression Ratio (N):
10/7
Compression Ratio (He):
10/3
Compression Ratio (H):
10/2
Ultimate Pressure (mbar):
10-9
Startup Time (min):
6
Vibration Level:
0.01
Orientation:
Any
Backing Pressure (mbar):
1.5
Outlet Flange:
NW 40
Weight (lb):
78
Price:
$37,935.00
Controller:
MAG POWER
Controller Price:
$9,180.00
Ordering Information
Turbo Pump ISO
P6562100
Turbo Pump CF
P6522100
Controller
114679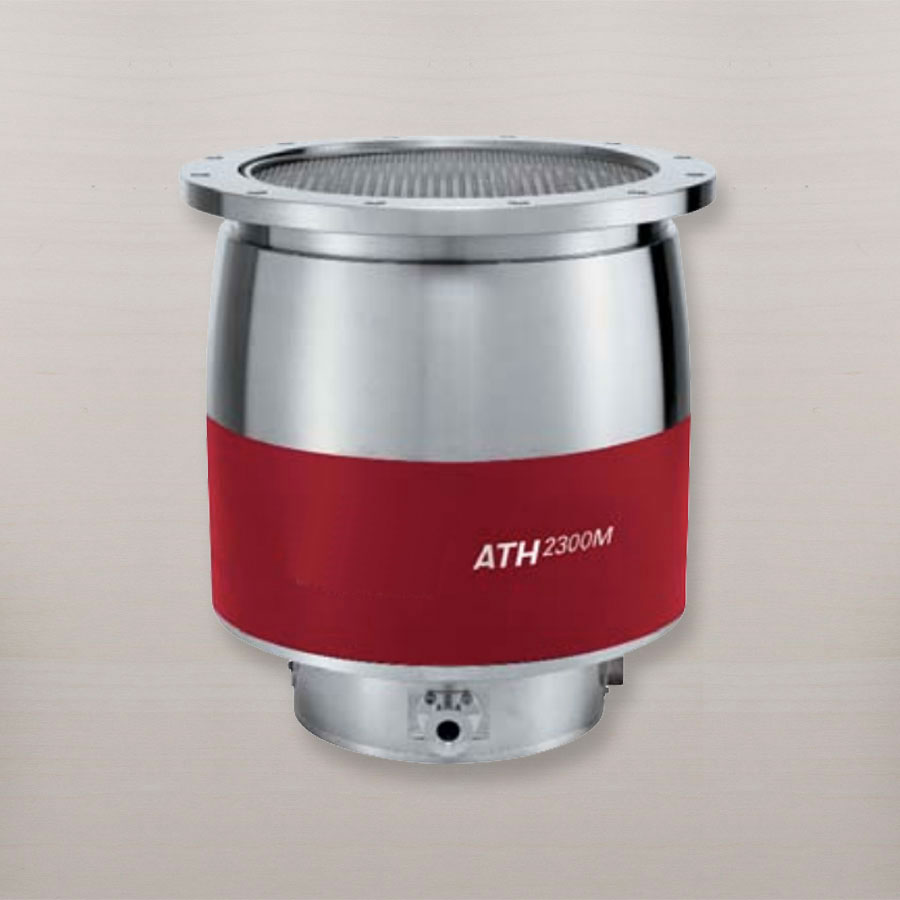 ATH2300M/MT
Technical Specifications
Inlet Flange:
IS0 200, CF 200, ISO 250, CF 250
Pumping Speed, L/S (N):
2100
Pumping Speed, L/S (He):
2200
Pumping Speed, L/S (H):
1200
Compression Ratio (N):
10/9
Compression Ratio (He):
10/4
Compression Ratio (H):
10/3
Ultimate Pressure (mbar):
10-9
Startup Time (min):
10
Vibration Level:
0.01
Orientation:
Any
Backing Pressure (mbar):
1.5
Outlet Flange:
NW 40
Weight (lb):
102
Price:
$46,960.00
Controller:
MAG POWER
Controller Price:
$9,180.00
Ordering Information
Turbo Pump ISO
Q6622100
Turbo Pump CF
Q6622100
Controller
120917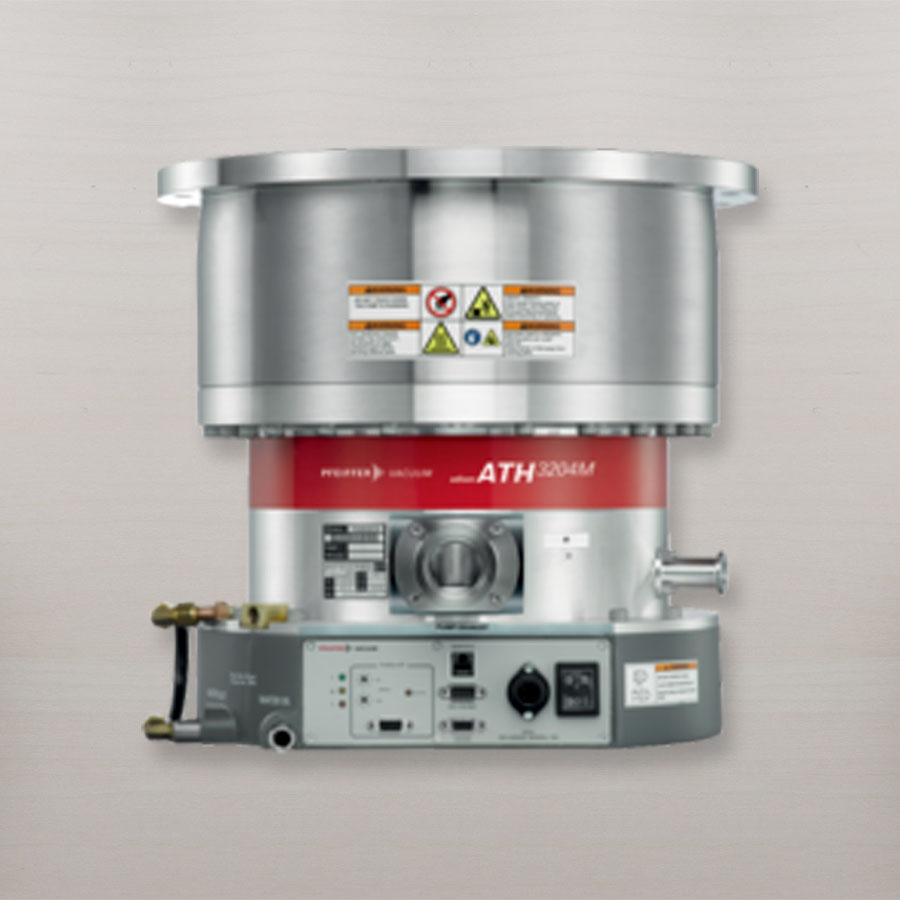 ATH2804M/MT
Technical Specifications
Inlet Flange:
ISO 250, CF 250
Pumping Speed, L/S (N):
2050
Pumping Speed, L/S (He):
2150
Pumping Speed, L/S (H):
1750
Compression Ratio (N):
10/8
Compression Ratio (He):
10/3
Compression Ratio (H):
10/4
Ultimate Pressure (mbar):
10-8
Startup Time (min):
10
Vibration Level:
0.01
Orientation:
Any
Backing Pressure (mbar):
1.5
Outlet Flange:
NW 40
Weight (lb):
176
Price:
$50,300.00
Controller:
Integrated
Ordering Information
Turbo Pump ISO
TMAAA664015A
Turbo Pump CF
N/A
Controller
120917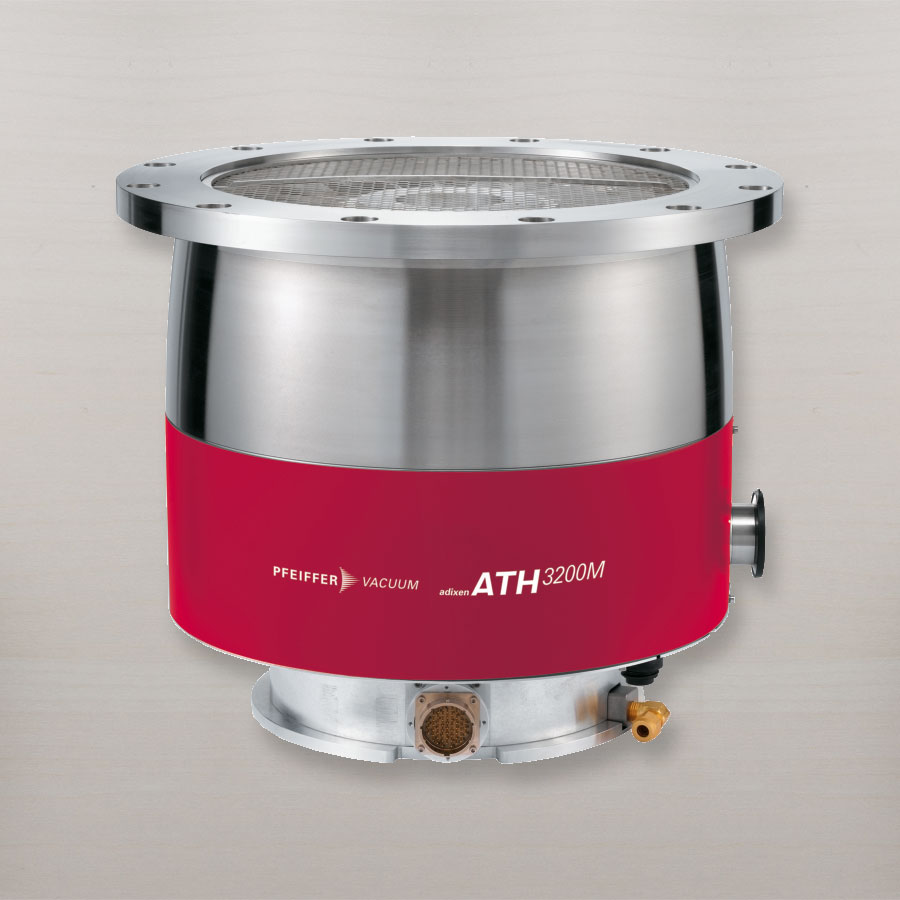 ATH3200M/MT
Technical Specifications
Inlet Flange:
ISO 320
Pumping Speed, L/S (N):
2700
Pumping Speed, L/S (He):
2500
Pumping Speed, L/S (H):
1700
Compression Ratio (N):
10/8
Compression Ratio (He):
10/4
Compression Ratio (H):
10/3
Ultimate Pressure (mbar):
10-9
Startup Time (min):
10
Vibration Level:
N/A
Orientation:
Any
Backing Pressure (mbar):
2
Outlet Flange:
NW 40
Weight (lb):
187
Price:
$59,600.00
Controller:
MAG POWER
Controller Price:
$9,180.00
Ordering Information
Turbo Pump ISO
U2662100
Turbo Pump CF
N/A
Controller
120917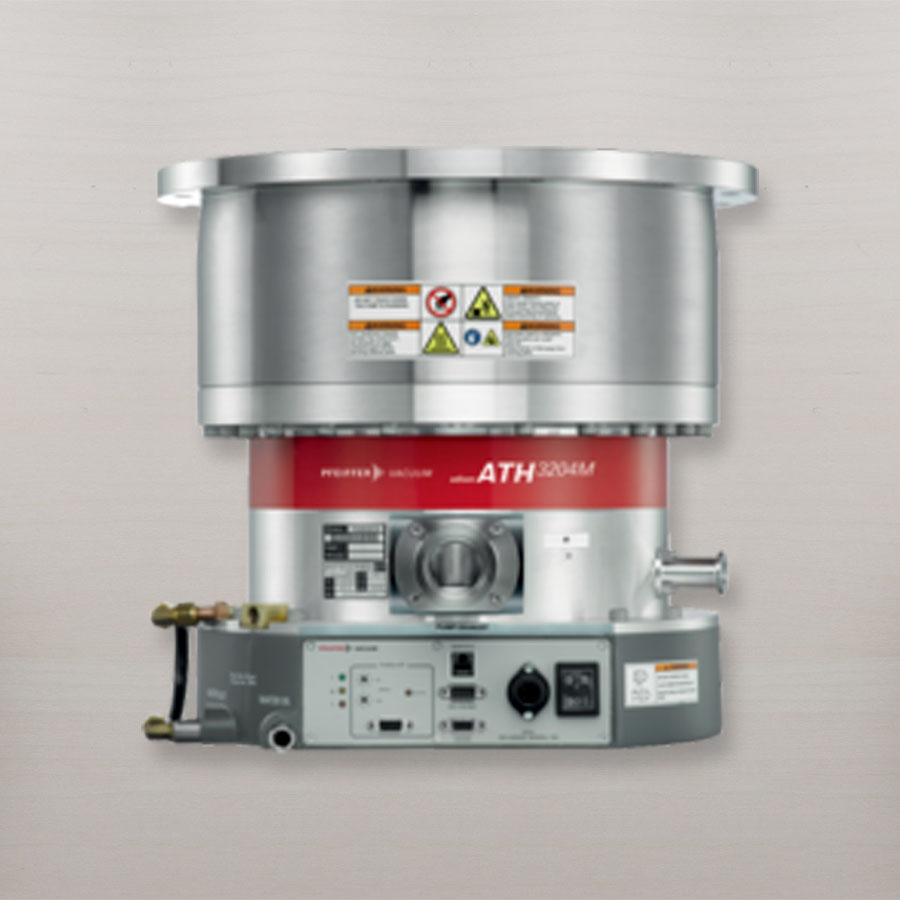 ATH3204M/MT
Technical Specifications
Inlet Flange:
ISO 320, CF 320
Pumping Speed, L/S (N):
2600
Pumping Speed, L/S (He):
2400
Pumping Speed, L/S (H):
1800
Compression Ratio (N):
10/8
Compression Ratio (He):
10/3
Compression Ratio (H):
10/4
Ultimate Pressure (mbar):
10-8
Startup Time (min):
10
Vibration Level:
0.01
Orientation:
Any
Backing Pressure (mbar):
1.5
Outlet Flange:
NW 40
Weight (lb):
176
Price:
$51,300.00
Controller:
Integrated
Ordering Information
Turbo Pump ISO
TMAAA664015A
Turbo Pump CF
N/A
Controller
120917