Edwards Magnetically Levitated Turbo Pumps
The first STP magnetically levitated turbo pumps were sold in 1983 worldwide. Today the STP turbo pumps account for 85% of the semiconductor and process tool market with 130,000 units sold. They demonstrate exceptional levels of reliability, class leading performance, and low cost of ownership on the harshest applications. The STP pumps are the first choice for applications demanding high up–time, hydrocarbon-free pumping, minimal maintenance, and low vibration. The use of magnetically levitated bearings eliminates the risk of contamination, while ensuring the units resist rapid changes in gas throughput and mechanical shock.
Features
• Proven Reliability
• Clean, Oil-Free Vacuum
• Complete Range 300 – 400 L/S
• 5 Axis Auto Tuning
• Installation In Any Orientation
• Full Remote Control Interface
• Includes Inlet Screen and Water Cooling
• Low Noise and Vibration
• Virtually Maintenance Free
• Units With Integrated Controller Power Supply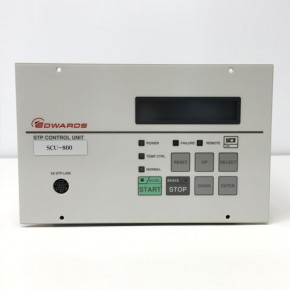 SCU Turbo Pump Controller
The SCU turbo pump control unit is a fully digital controller, and has perfect compatibility with the magnetically levitated turbo pumps. The new AVR (Auto vibration reduction) technology achieves a further reduction in vibration levels, and the advanced pre-maintenance call function provides advanced notice of precise maintenance time.
Features
• Universal Controller
• Rotor Imbalance Monitoring
• Back-Up Bearing Monitoring
• Highest Reliability
• Communication Ports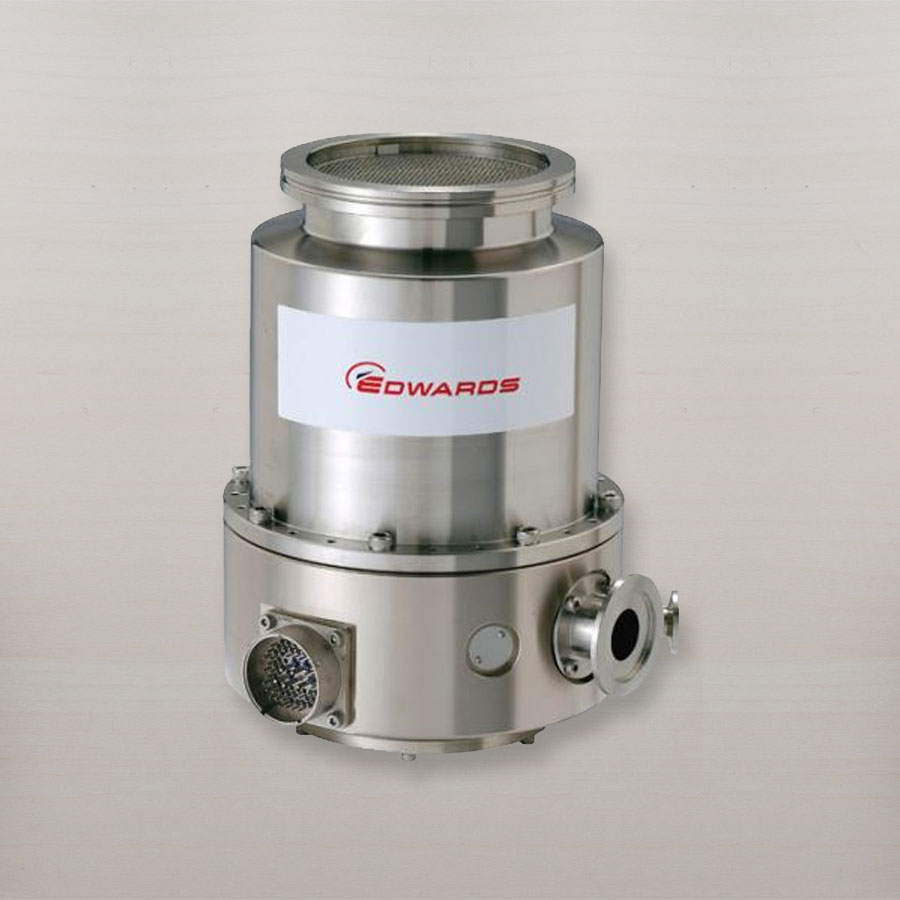 STP301/C
Technical Specifications
Inlet Flange:
ISO 100, CF 100
Pumping Speed, L/S (N):
300
Pumping Speed, L/S (He):
N/A
Pumping Speed, L/S (H):
300
Compression Ratio (N):
10/8
Compression Ratio (He):
N/A
Compression Ratio (H):
2 x 10/4
Ultimate Pressure (mbar):
10-10
Startup Time (min):
3
Rotational Speed (rpm):
48,000
Orientation:
Any
Backing Pressure (mbar):
0.1
Outlet Flange:
NW 25
Weight (lb):
24
Price:
$14,565.00
Controller:
SCU-350
Controller Price:
$8,011.00
Ordering Information
Turbo Pump
ISO Inlet: B748-30-020
CF Inlet: B748-31-010
ISO Inlet: N/A
CF Inlet: N/A
Controller
YT21ZE220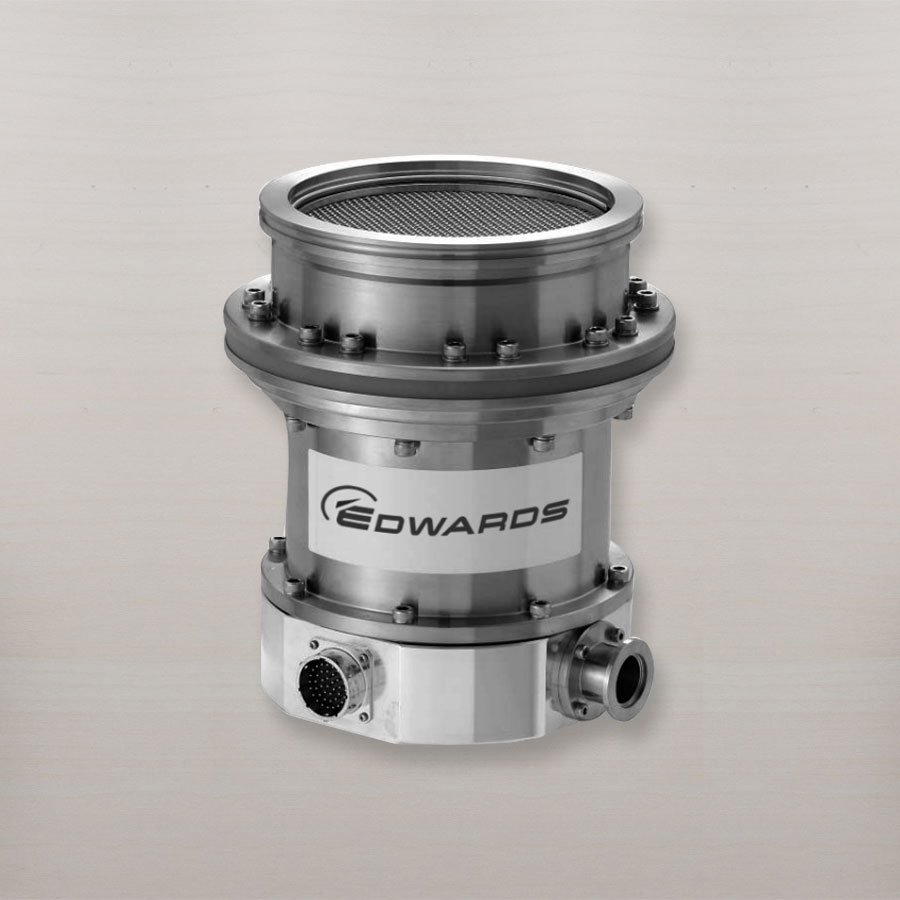 STP451/C
Technical Specifications
Inlet Flange:
ISO 160, CF 160
Pumping Speed, L/S (N):
440
Pumping Speed, L/S (He):
420
Pumping Speed, L/S (H):
275
Compression Ratio (N):
10/8
Compression Ratio (He):
5 x 10/5
Compression Ratio (H):
2 x 10/4
Ultimate Pressure (mbar):
10-10
Startup Time (min):
6
Rotational Speed (rpm):
48,000
Orientation:
Any
Backing Pressure (mbar):
0.1
Outlet Flange:
NW 25
Weight (lb):
53
Price:
$16,640.00
Controller:
SCU-350
Controller Price:
$8,011.00
Ordering Information
Turbo Pump
ISO Inlet: B748-40-030
CF Inlet: B748-41-010
ISO Inlet: N/A
CF Inlet: N/A
Controller
YT21ZE220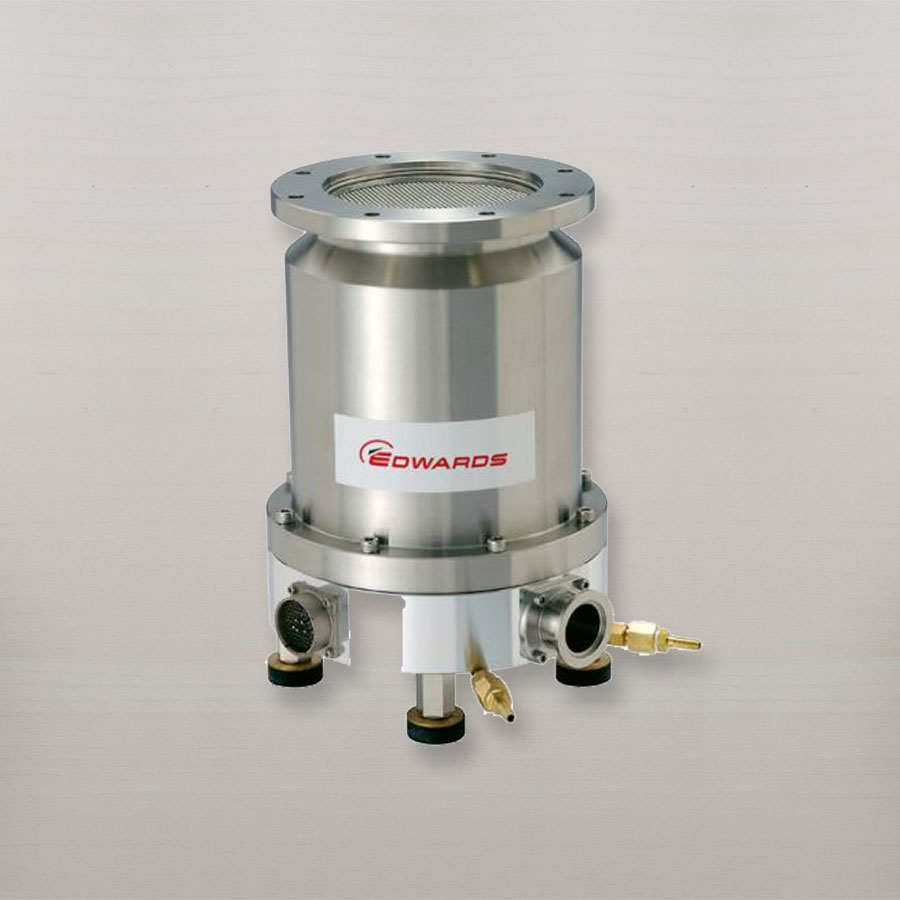 STP603/C
Technical Specifications
Inlet Flange:
ISO 160, CF 160
Pumping Speed, L/S (N):
650
Pumping Speed, L/S (He):
N/A
Pumping Speed, L/S (H):
550
Compression Ratio (N):
10/8
Compression Ratio (He):
N/A
Compression Ratio (H):
10/5
Ultimate Pressure (mbar):
10-10
Startup Time (min):
3
Rotational Speed (rpm):
35,000
Orientation:
Any
Backing Pressure (mbar):
0.1
Outlet Flange:
NW 40
Weight (lb):
69
Price:
$17,680.00
Controller:
SCU-800
Controller Price:
$9,259.00
Ordering Information
Turbo Pump
ISO Inlet: YT 39B0030
CF Inlet: YT 3902005
ISO Inlet: N/A
CF Inlet: N/A
Controller
YT49Z2200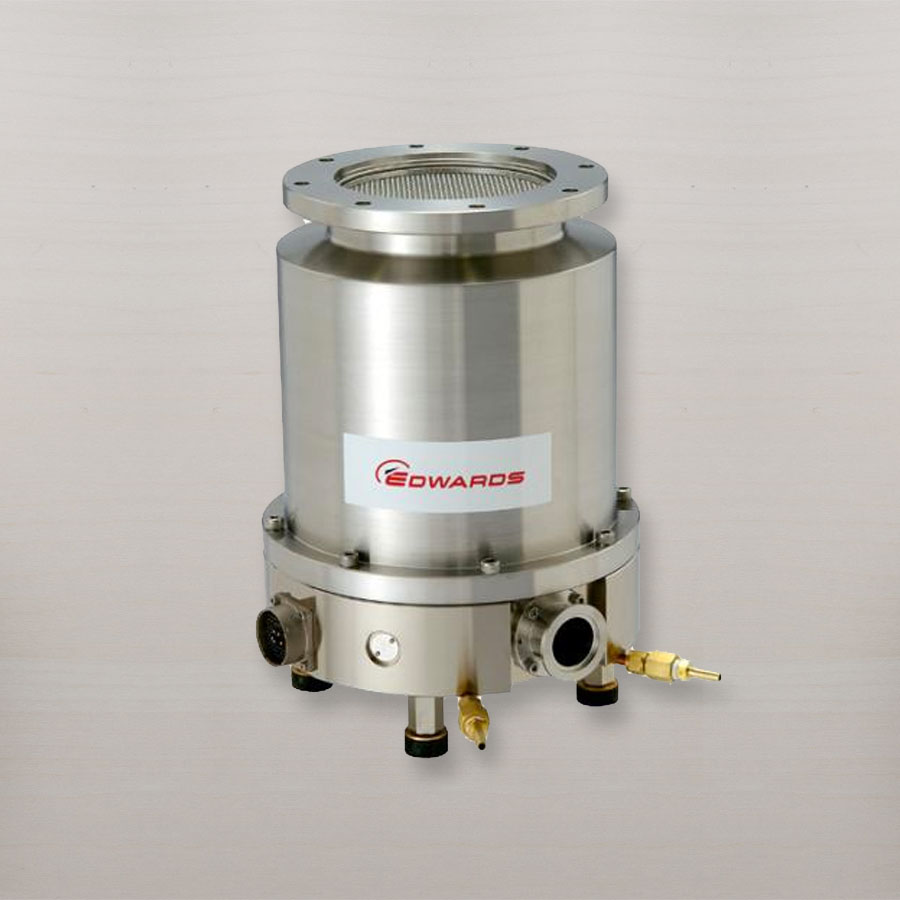 STPA803C/CV
Technical Specifications
Inlet Flange:
ISO 160, CF 160
Pumping Speed, L/S (N):
800
Pumping Speed, L/S (He):
N/A
Pumping Speed, L/S (H):
520
Compression Ratio (N):
10/8
Compression Ratio (He):
N/A
Compression Ratio (H):
10/3
Ultimate Pressure (mbar):
10-9
Startup Time (min):
7
Rotational Speed (rpm):
32,500
Orientation:
Any
Backing Pressure (mbar):
0.1
Outlet Flange:
NW 40
Weight (lb):
86
Price:
$23,920.00
Controller:
SCU-800
Controller Price:
$9,259.00
Ordering Information
Turbo Pump
ISO Inlet: YT 36B0040
CF Inlet: YT 36B0010
ISO Inlet: N/A
CF Inlet: N/A
Controller
YT49Z2200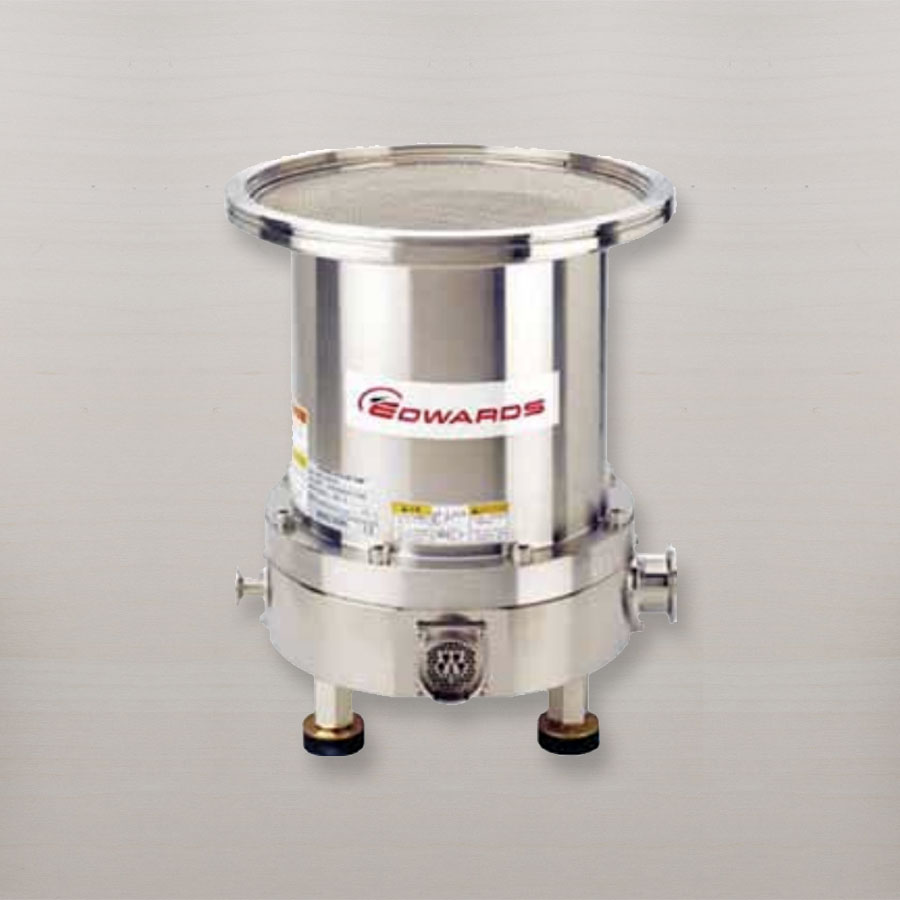 STP1003/C
Technical Specifications
Inlet Flange:
ISO 200, CF 200
Pumping Speed, L/S (N):
1000
Pumping Speed, L/S (He):
N/A
Pumping Speed, L/S (H):
300
Compression Ratio (N):
10/8
Compression Ratio (He):
N/A
Compression Ratio (H):
10/5
Ultimate Pressure (mbar):
10-4
Startup Time (min):
6
Rotational Speed (rpm):
35,000
Orientation:
Any
Backing Pressure (mbar):
0.1
Outlet Flange:
NW 40
Weight (lb):
68
Price:
$21,848.00
Controller:
SCU-800
Controller Price:
$9,259.00
Ordering Information
Turbo Pump
ISO Inlet: YT 39B2001
CF Inlet: YT 39B0010
ISO Inlet: N/A
CF Inlet: N/A
Controller
YT49Z2200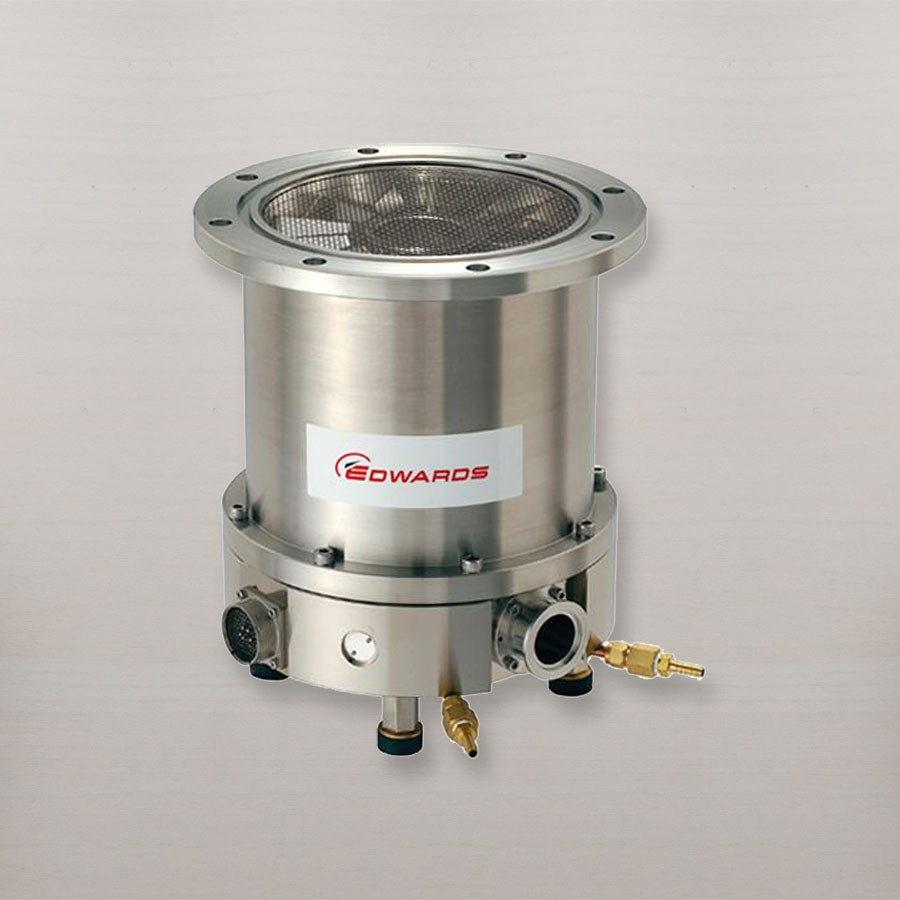 STPA1303C/CV
Technical Specifications
Inlet Flange:
ISO 200, CF 200
Pumping Speed, L/S (N):
1300
Pumping Speed, L/S (He):
N/A
Pumping Speed, L/S (H):
800
Compression Ratio (N):
10/8
Compression Ratio (He):
N/A
Compression Ratio (H):
10/3
Ultimate Pressure (mbar):
10-9
Startup Time (min):
7
Rotational Speed (rpm):
32,500
Orientation:
Any
Backing Pressure (mbar):
0.1
Outlet Flange:
NW 40
Weight (lb):
86
Price:
$28,090.00
Controller:
SCU-800
Controller Price:
$9,259.00
Ordering Information
Turbo Pump
ISO Inlet: YT 36B0120
CF Inlet: YT 36B0030
ISO Inlet: N/A
CF Inlet: N/A
Controller
YT49Z2200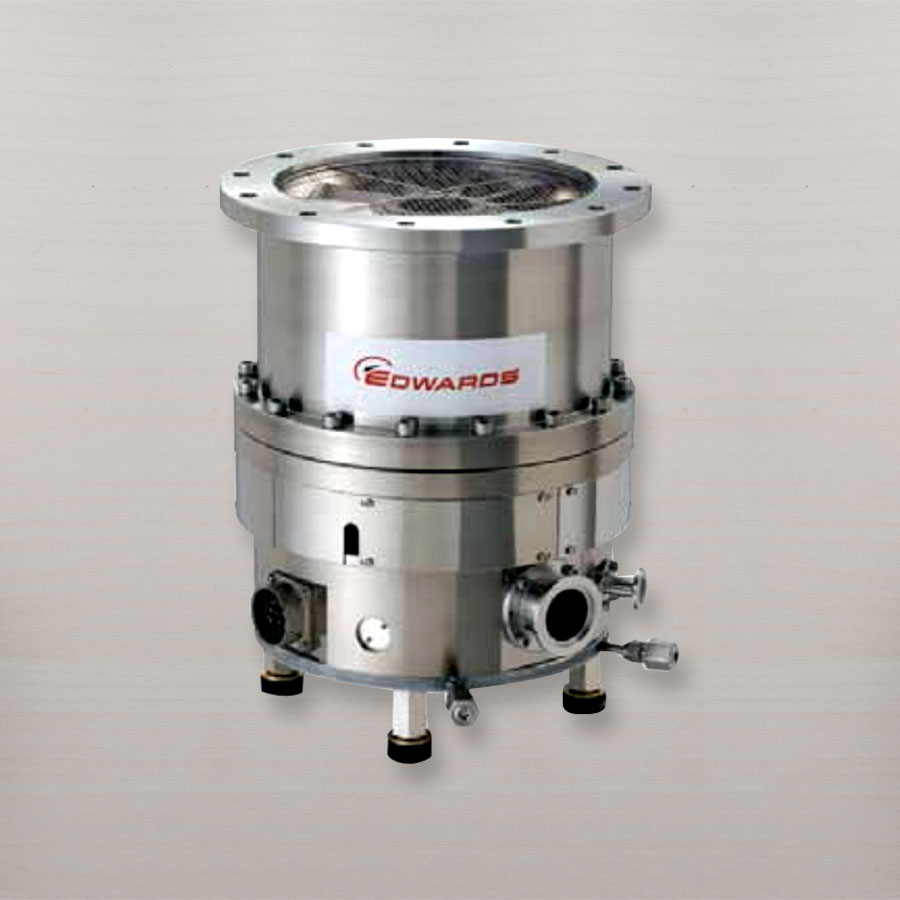 STPA1603C/CV
Technical Specifications
Inlet Flange:
ISO 200, CF 200
Pumping Speed, L/S (N):
1600
Pumping Speed, L/S (He):
N/A
Pumping Speed, L/S (H):
1200
Compression Ratio (N):
10/8
Compression Ratio (He):
N/A
Compression Ratio (H):
10/3
Ultimate Pressure (mbar):
10-9
Startup Time (min):
7
Rotational Speed (rpm):
36,500
Orientation:
Any
Backing Pressure (mbar):
2
Outlet Flange:
NW 40
Weight (lb):
77
Price:
$31,620.00
Controller:
SCU-800
Controller Price:
$9,259.00
Ordering Information
Turbo Pump
ISO Inlet: YT 46B0030
CF Inlet: YT 46B0010
ISO Inlet: N/A
CF Inlet: N/A
Controller
YT49Z2200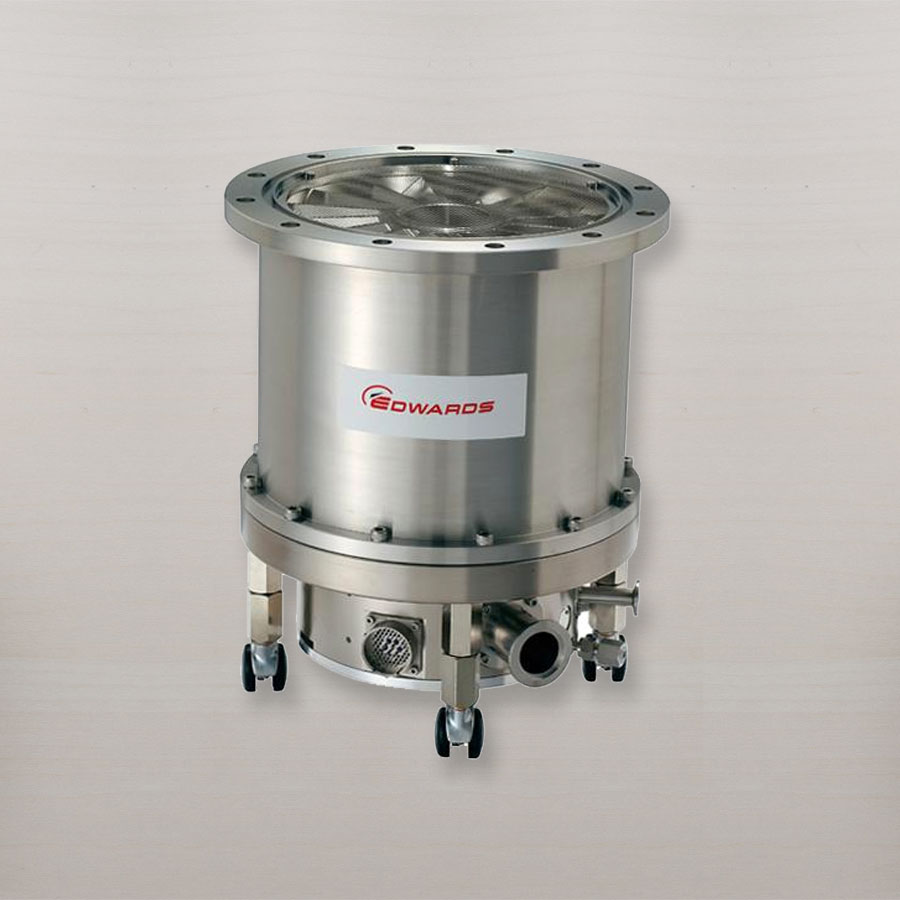 STPA2203C/CV
Technical Specifications
Inlet Flange:
ISO 250, CF 250
Pumping Speed, L/S (N):
2200
Pumping Speed, L/S (He):
N/A
Pumping Speed, L/S (H):
1700
Compression Ratio (N):
10/8
Compression Ratio (He):
N/A
Compression Ratio (H):
10/4
Ultimate Pressure (mbar):
10-9
Startup Time (min):
7
Rotational Speed (rpm):
27,000
Orientation:
Any
Backing Pressure (mbar):
0.1
Outlet Flange:
NW 40
Weight (lb):
134
Price:
$35,893.00
Controller:
SCU-1600
Controller Price:
$12,848.00
Ordering Information
Turbo Pump
ISO Inlet: YT 46B0030
CF Inlet: YT 46B0010
ISO Inlet: N/A
CF Inlet: N/A
Controller
YT49Z2200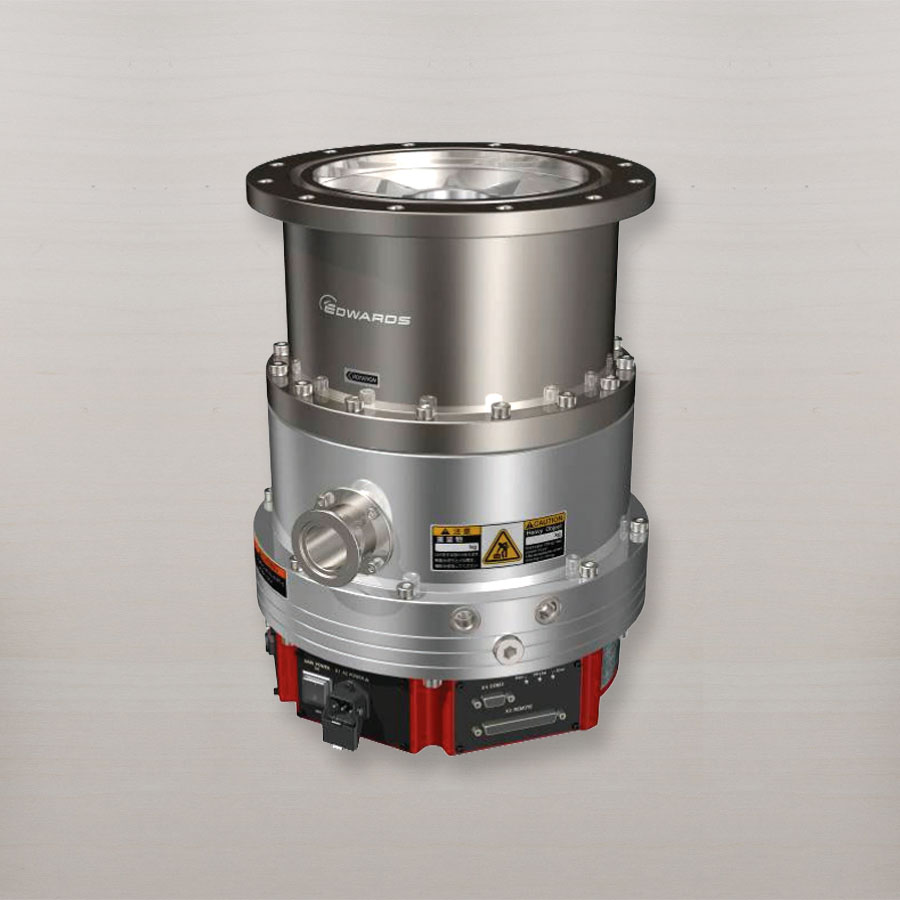 STPIXR1606
Technical Specifications
Inlet Flange:
ISO 160, ISO 200, CF 200
Pumping Speed, L/S (N):
1600
Pumping Speed, L/S (He):
N/A
Pumping Speed, L/S (H):
1200
Compression Ratio (N):
10/8
Compression Ratio (He):
N/A
Compression Ratio (H):
10/3
Ultimate Pressure (mbar):
10-7
Startup Time (min):
8
Rotational Speed (rpm):
36,500
Orientation:
Any
Backing Pressure (mbar):
2
Outlet Flange:
NW 40
Weight (lb):
106
Price:
$33,292.00
Controller:
Integrated
Controller Price:
N/A
Ordering Information
Turbo Pump
ISO Inlet: YT 790Z070
CF Inlet: YT 790Z010
ISO Inlet: YT 790Z040
CF Inlet: N/A
Controller
N/A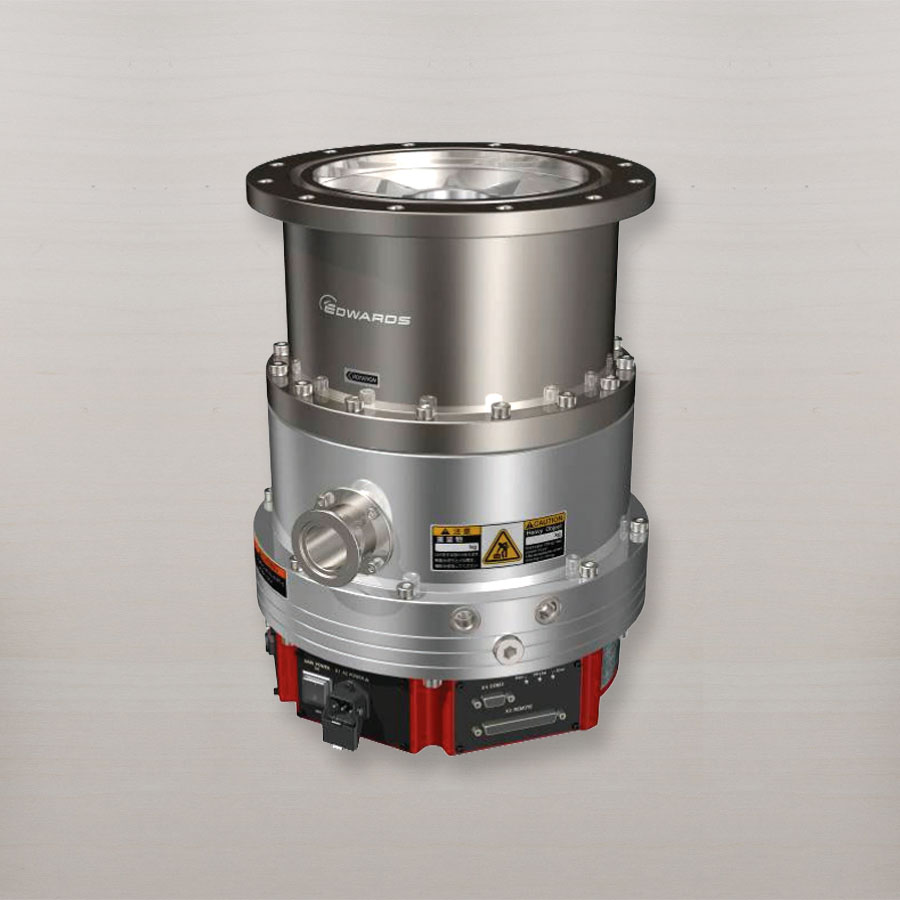 STPIXR2206
Technical Specifications
Inlet Flange:
ISO 250, CF 250
Pumping Speed, L/S (N):
2200
Pumping Speed, L/S (He):
N/A
Pumping Speed, L/S (H):
N/A
Compression Ratio (N):
10/8
Compression Ratio (He):
N/A
Compression Ratio (H):
10/3
Ultimate Pressure (mbar):
10-9
Startup Time (min):
10
Rotational Speed (rpm):
36,500
Orientation:
Any
Backing Pressure (mbar):
2
Outlet Flange:
NW 40
Weight (lb):
106
Price:
$39,931.00
Controller:
Integrated
Controller Price:
N/A
Ordering Information
Turbo Pump
ISO Inlet: YT 850Z000
CF Inlet: YT 850Z020
ISO Inlet: N/A
CF Inlet: N/A
Controller
N/A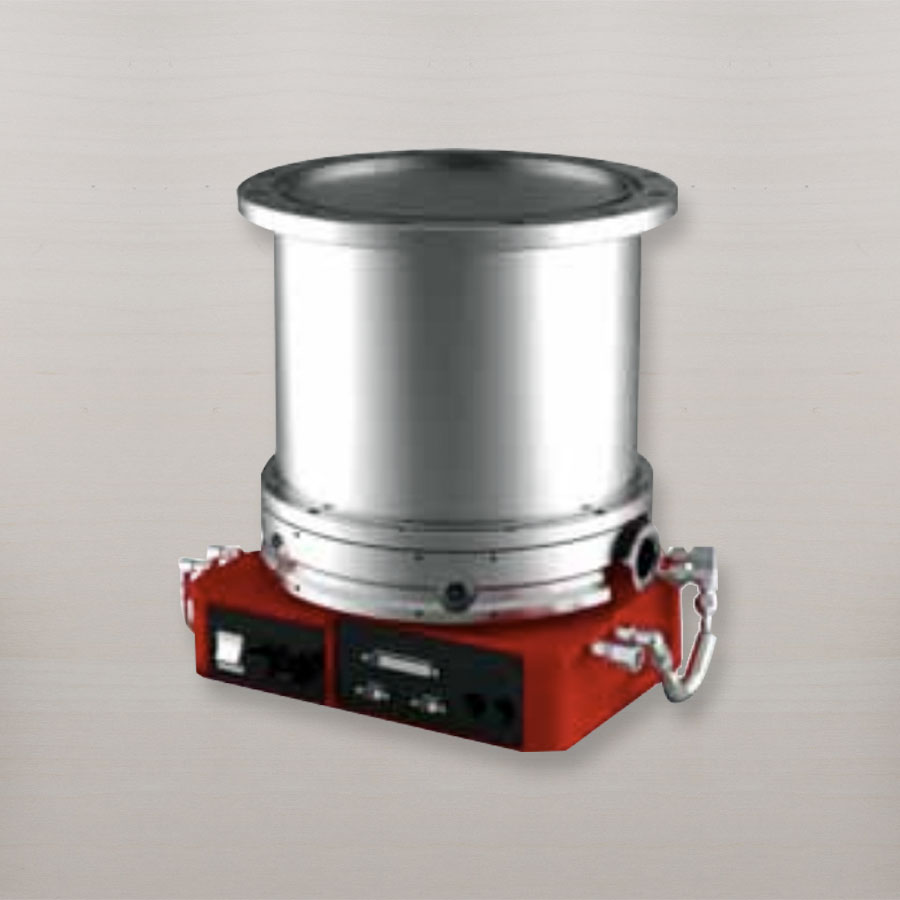 STPIXA2206C
Technical Specifications
Inlet Flange:
ISO 250, CF 250
Pumping Speed, L/S (N):
2200
Pumping Speed, L/S (He):
N/A
Pumping Speed, L/S (H):
1900
Compression Ratio (N):
10/8
Compression Ratio (He):
N/A
Compression Ratio (H):
10/4
Ultimate Pressure (mbar):
10-9
Startup Time (min):
8
Rotational Speed (rpm):
27,000
Orientation:
Any
Backing Pressure (mbar):
2
Outlet Flange:
NW 40
Weight (lb):
136
Price:
$41,616.00
Controller:
Integrated
Controller Price:
N/A
Ordering Information
Turbo Pump
ISO Inlet: Y 1810Z010
CF Inlet: Y 1810Z030
ISO Inlet: N/A
CF Inlet: N/A
Controller
N/A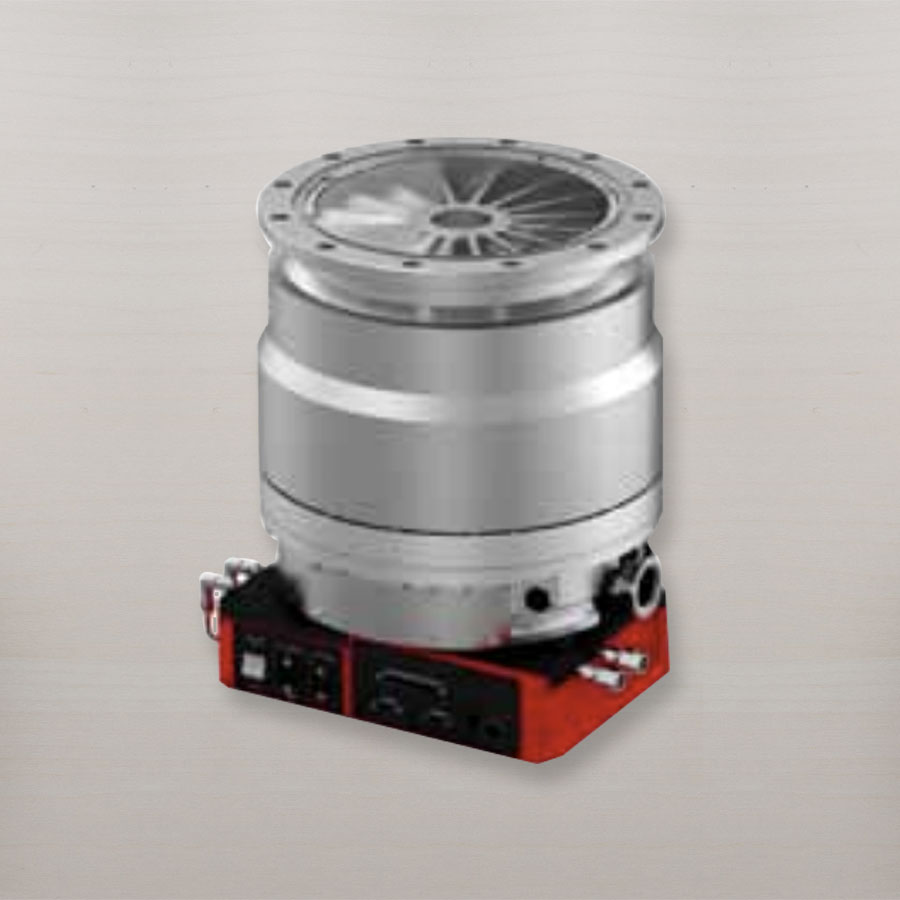 STPIXA3306C
Technical Specifications
Inlet Flange:
ISO 250, CF 250 , ISO 320, CF 320
Pumping Speed, L/S (N):
2650
Pumping Speed, L/S (He):
N/A
Pumping Speed, L/S (H):
2300
Compression Ratio (N):
10/8
Compression Ratio (He):
N/A
Compression Ratio (H):
10/3
Ultimate Pressure (mbar):
10-9
Startup Time (min):
10
Rotational Speed (rpm):
27,000
Orientation:
Any
Backing Pressure (mbar):
2
Outlet Flange:
NW 40
Weight (lb):
176
Price:
$52,000.00
Controller:
Integrated
Controller Price:
N/A
Ordering Information
Turbo Pump
ISO Inlet: YT 820Z020
CF Inlet: YT 820Z040
ISO Inlet: N/A
CF Inlet: N/A
Controller
N/A