Edwards Turbo Pumps
The new nEXT turbo pumps were designed to combine all the latest technological advances with two decades of experience based on the tried and trusted EXT/STP turbo pumps. The new nEXT units set the benchmark for performance, reliability, and end user serviceability for a scientific turbo. They are available in three sizes. New technologies employed in the nEXT turbos have enabled the pumps to be serviced by the end user in the field in less than 10 minutes. Choose from a complete line of accessories to make integration easy.
Features
• Multiple drag stage
• Field serviceable lower bearing
• Permanent magnetic upper bearing
• Built in Drive unit with cable
• Mountable in any configuration
• Exceptional pumping speeds and compression ratios
• LED indicator lights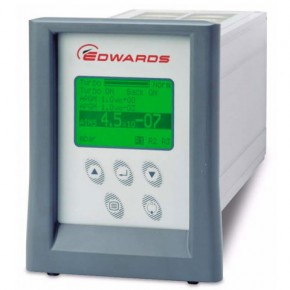 TIC Controller
The TIC (turbo and instrument controller) has been developed with two key objectives in mind. To provide an alternative to the lower–end models in the AGC range, offering enhanced functionality, serial communications, and a powerful PC program as standard. The second is to provide a new end-user/small OEM turbo controller, able to support the new ranges of 24V DX and EXDC turbos and backing pumps. Taking advantage of the above developments enabled a new combined instruments and turbo controller to be developed which provides the customer with a "one-box" controller for the entire vacuum system.
Features
• Universal Turbo Controller
• Backing pump support
• Relay options
• Simple system configuration
• Compact instrument
• Clear, easy to use graphic user interface
• Universal power supply
• Serial communications
• Windows PC Program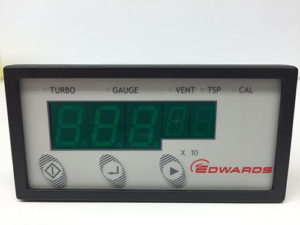 TAG Display Unit
For a more economical and simple solution, TAG display units can be utilized with any of the Next turbo pumps. They offer on/off operations, ability to display one vacuum sensor, air cooling kit, and vent valve. Power supply is required.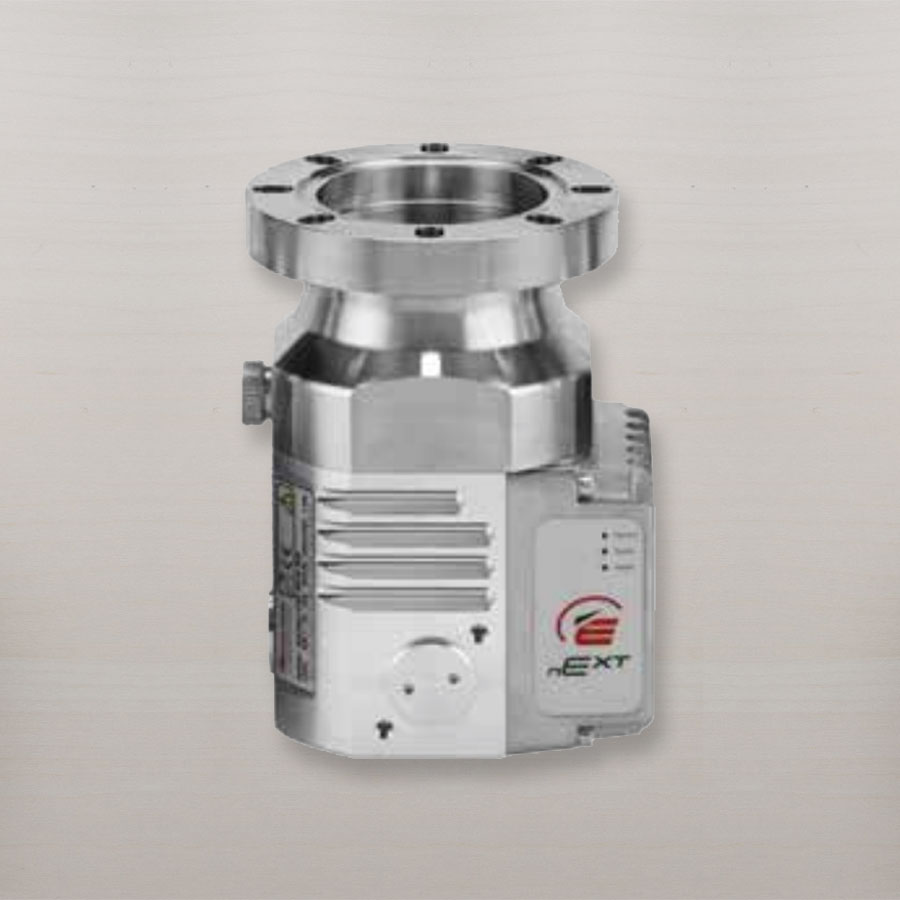 nEXT85 H
Technical Specifications
Inlet Flange:
NW 40, ISO 63, CF 63
Pumping Speed, L/S (N):
84
Pumping Speed, L/S (He):
61
Pumping Speed, L/S (H):
50
Compression Ratio (N):
1 x 10/11
Compression Ratio (He):
4.6 x 10/7
Compression Ratio (H):
6.5 x 10/5
Ultimate Pressure (mbar):
10-10
Startup Time (min):
2
Rotational Speed (rpm):
90,000
Orientation:
Vertical / Horizontal
Backing Pressure (mbar):
< 11
Outlet Flange:
NW 16
Weight (lb):
6.6
Price:
$8,730.00
Controller:
TIC
Controller Price:
$2,483.00
Ordering Information
Turbo Pump
NW Inlet: B8G4-10-A01
ISO Inlet: B8G4-10-B01
CF Inlet: B8G4-10-C01
ISO Inlet: N/A
Controller
D397-21-000
Pump Cable (3m)
D397-00-836
Air Cooling
B8G2-00-820
Vent Valve
B580-66-010
Power Cord
D400-13-120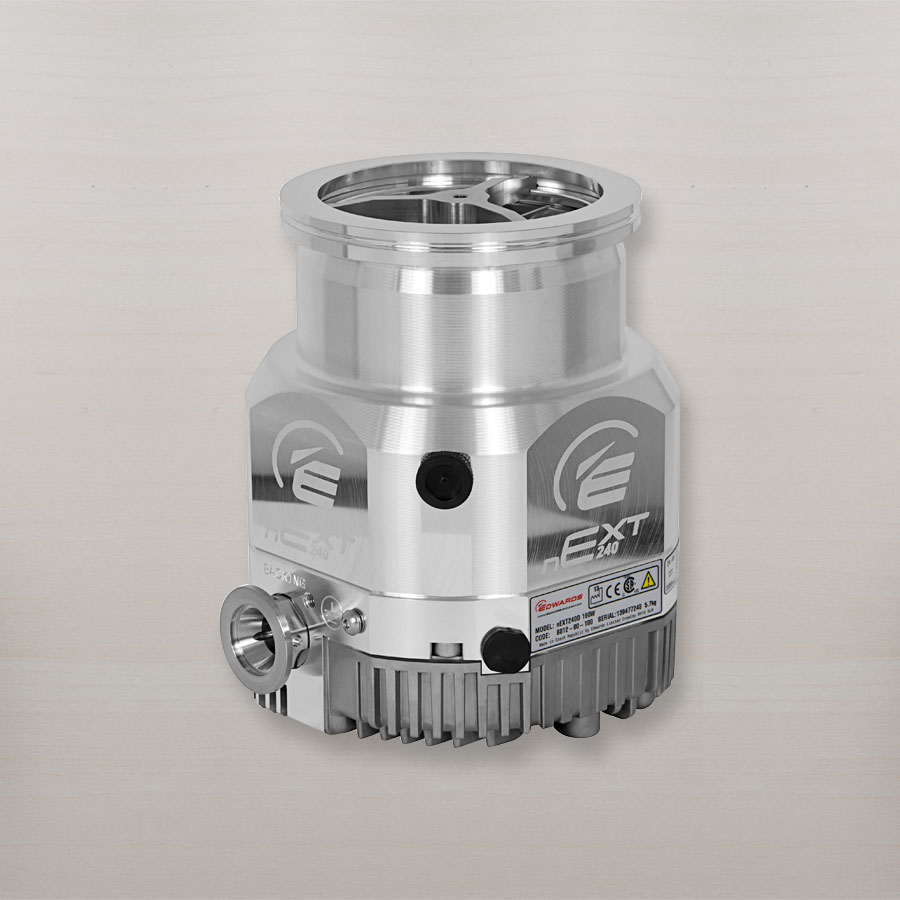 nEXT240 T
Technical Specifications
Inlet Flange:
ISO 100, CF 100
Pumping Speed, L/S (N):
240
Pumping Speed, L/S (He):
230
Pumping Speed, L/S (H):
165
Compression Ratio (N):
1 x 10/11
Compression Ratio (He):
1 x 10/6
Compression Ratio (H):
1 x 10/4
Ultimate Pressure (mbar):
10-10
Startup Time (min):
2
Rotational Speed (rpm):
60,000
Orientation:
Any
Backing Pressure (mbar):
20
Outlet Flange:
NW 25
Weight (lb):
13
Price:
$10,419.00
Controller:
TIC
Controller Price:
$2,483.00
Ordering Information
Turbo Pump
ISO Inlet: B813-00-100
CF Inlet: B813-00-200
Controller
D397-21-000
Pump Cable (3m)
N/A
Air Cooling
B580-53-185
Vent Valve
B580-66-010
Power Cord
D400-13-120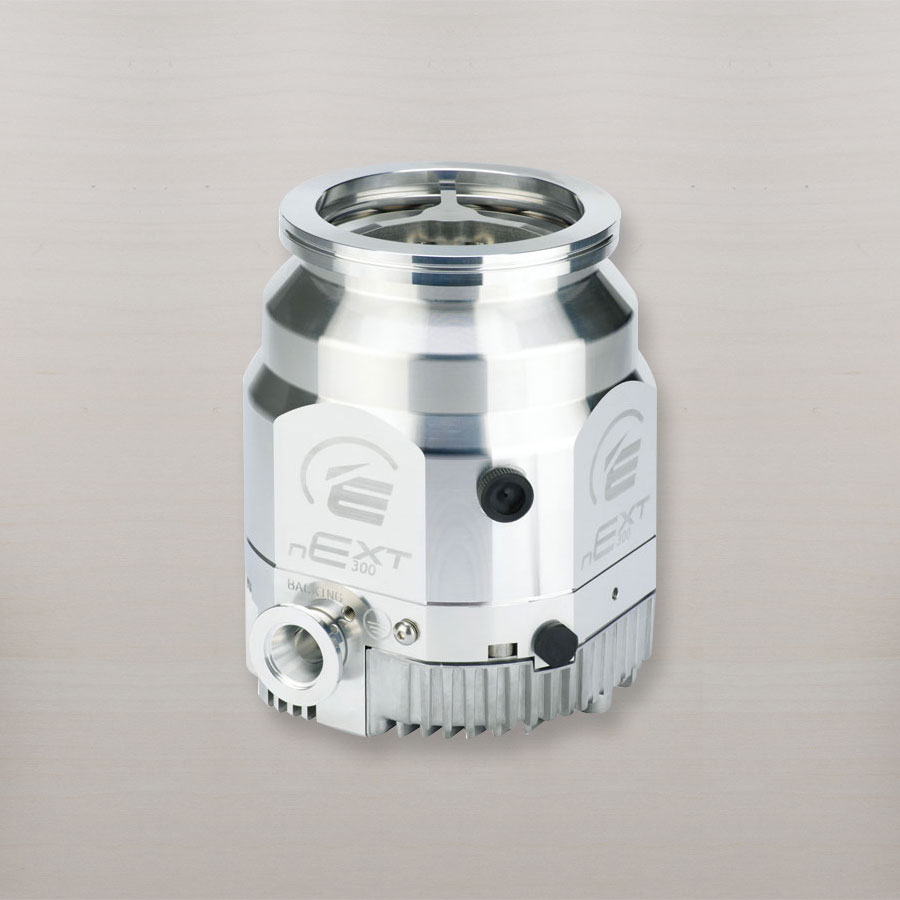 nEXT300 T
Technical Specifications
Inlet Flange:
ISO 100, CF 100
Pumping Speed, L/S (N):
300
Pumping Speed, L/S (He):
340
Pumping Speed, L/S (H):
280
Compression Ratio (N):
1 x 10/11
Compression Ratio (He):
1 x 10/6
Compression Ratio (H):
1 x 10/5
Ultimate Pressure (mbar):
10-10
Startup Time (min):
2
Rotational Speed (rpm):
60,000
Orientation:
Any
Backing Pressure (mbar):
20
Outlet Flange:
NW 25
Weight (lb):
14
Price:
$11,018.00
Controller:
TIC
Controller Price:
$2,483.00
Ordering Information
Turbo Pump
ISO Inlet: B823-00-100
CF Inlet: B823-00-200
Controller
D317-21-000
Pump Cable (3m)
N/A
Air Cooling
B580-53-185
Vent Valve
B580-66-010
Power Cord
D400-13-120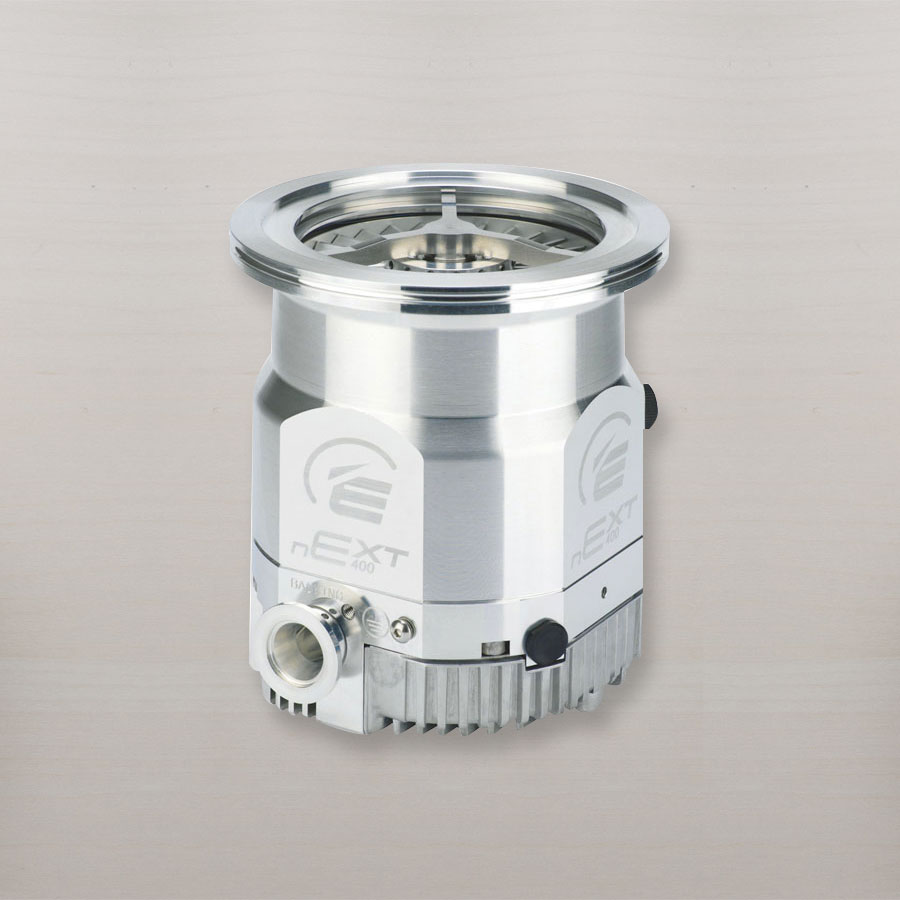 nEXT400 T
Technical Specifications
Inlet Flange:
ISO 160, CF 160
Pumping Speed, L/S (N):
400
Pumping Speed, L/S (He):
390
Pumping Speed, L/S (H):
325
Compression Ratio (N):
1 x 10/11
Compression Ratio (He):
1 x 10/8
Compression Ratio (H):
5 x 10/6
Ultimate Pressure (mbar):
10-10
Startup Time (min):
2
Rotational Speed (rpm):
60,000
Orientation:
Any
Backing Pressure (mbar):
20
Outlet Flange:
NW 25
Weight (lb):
15
Price:
$12,426.00
Controller:
TIC
Controller Price:
$2,483.00
Ordering Information
Turbo Pump
ISO Inlet: B833-00-300
CF Inlet: B833-00-400
Controller
D397-21-000
Pump Cable (3m)
N/A
Air Cooling
B580-53-175
Vent Valve
B580-66-010
Power Cord
D400-13-120