Agilent Technologies Varian Turbo Pumps
Agilent offers a broad range of turbomolecular pumps with a range of 46 to 7,500 liters/second pumping speed, including the Navigator and TwisTorr lines. Agilent turbo pumps are optimized for high compression ratio for low base pressure, high pressure differential for high throughput and high foreline pressure. The turbo pumps are oil-free, contamination free, may be operated in any position without stress on materials and have low failure rates, with typical MTTF in excess of 250,000 hours. Applications for the turbo pumps include high energy physics and research, nanotechnologies, mass spectrometry, industrial vacuum processing, and semiconductors; as well as dedicated pumps for Scanning Electron Microscope (SEM) work.
Features
• State-of-the-Art MacroTorr Technology
• Designed for Very High Gas Load Operations
• Monolithic Rotors
• Highly Reliable
• Maintenance-Free Ceramic Ball Bearings
• High Speed, High Compression
• On Board Controller with Windows based Software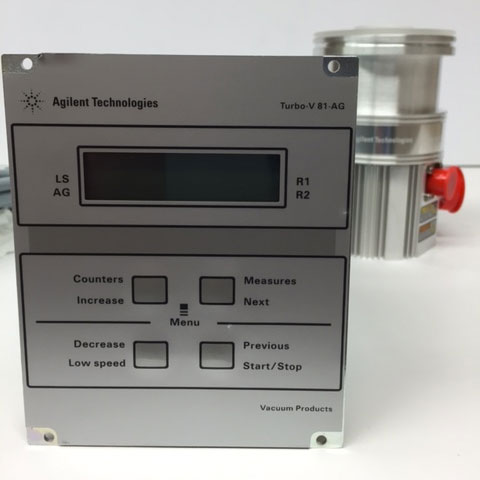 Turbo V-Series Navigator and Rack Controllers
The Turbo V-Series controllers are a microprocessor controlled unit with self diagnostic and protection features that ensure the highest degree of reliability. The compact rack system has multifunction alphanumeric displays for pump status and error code diagnostics. The front panel has a two line dot matrix LCD display with back lighting. It displays rotational speed, current, power, and bearing temperature. It also records vacuum cycles, cycle time, current cycle, and total operating hours. The Navigator controllers are microprocessor controlled frequency converters fully controllable through PC software.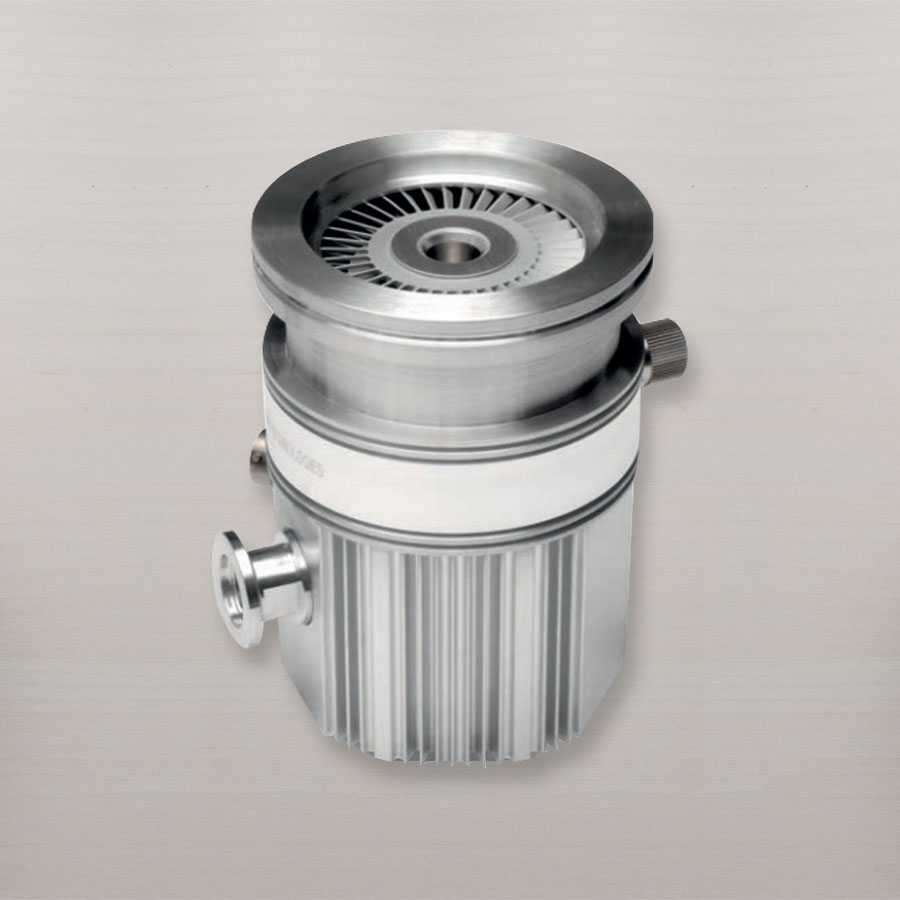 V84FS
Technical Specifications
Inlet Flange:
NW 40, ISO 63, CF 63
Pumping Speed, L/S (N):
67
Pumping Speed, L/S (He):
63
Pumping Speed, L/S (H):
53
Compression Ratio (N):
1 x 10/11
Compression Ratio (He):
2 x 10/6
Compression Ratio (H):
5 x 10/4
Ultimate Pressure (mbar):
10-10
Startup Time (min):
2
Rotational Speed (rpm):
81,000
Orientation:
Any
Backing Pressure (mbar):
0.1
Outlet Flange:
NW 16
Weight (lb):
5.5
Price:
$5,095.00
Controller:
V84 AG
Ordering Information
Turbo Pumps Only
NW Inlet: X3502 – 64001
ISO Inlet:X3502 – 64000
CF Inlet:X3502 – 64002
ISO Inlet: N/A
CF Inlet: N/A
Controller
X3508 – 64001
Pump Cable (3m)
N/A
Cooling Kit
Air: 969 – 9290
Water:X3502 – 68003
Inlet Screen
NW: 9699309
ISO:X3502 – 68001
CF: N/A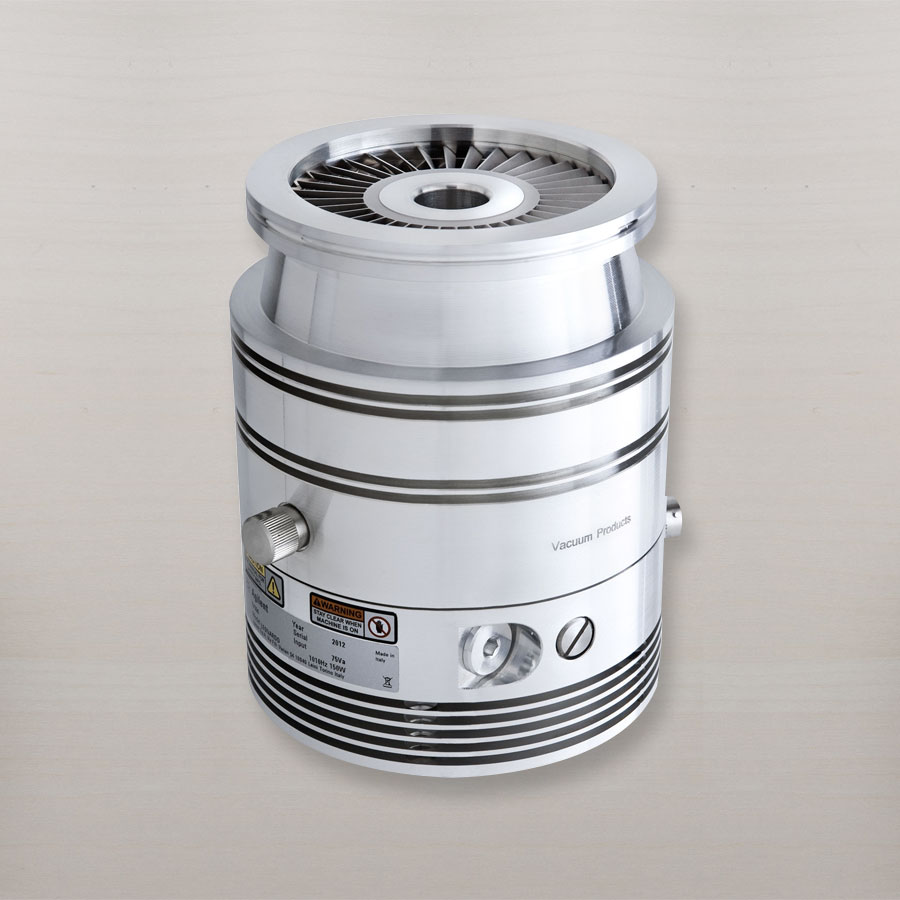 V304FS
Technical Specifications
Inlet Flange:
ISO 100, CF 100, ISO 160, CF 160
Pumping Speed, L/S (N):
250
Pumping Speed, L/S (He):
255
Pumping Speed, L/S (H):
220
Compression Ratio (N):
10/11
Compression Ratio (He):
10/8
Compression Ratio (H):
10/6
Ultimate Pressure (mbar):
10-10
Startup Time (min):
3
Rotational Speed (rpm):
60,000
Orientation:
Any
Backing Pressure (mbar):
10
Outlet Flange:
NW 16
Weight (lb):
13
Price:
$8,868.00
Controller:
V304 AG
Ordering Information
Turbo Pumps Only
NW Inlet: N/A
ISO Inlet: X35001120
CF Inlet: X35001121
ISO Inlet: X35001122
CF Inlet: X35001123
Controller
Rack 110V: X350664002
Pump Cable (3m)
N/A
Cooling Kit
Air: 9699949
Water: 9699337
Inlet Screen
NW: N/A
ISO: X350068000
CF: 9699302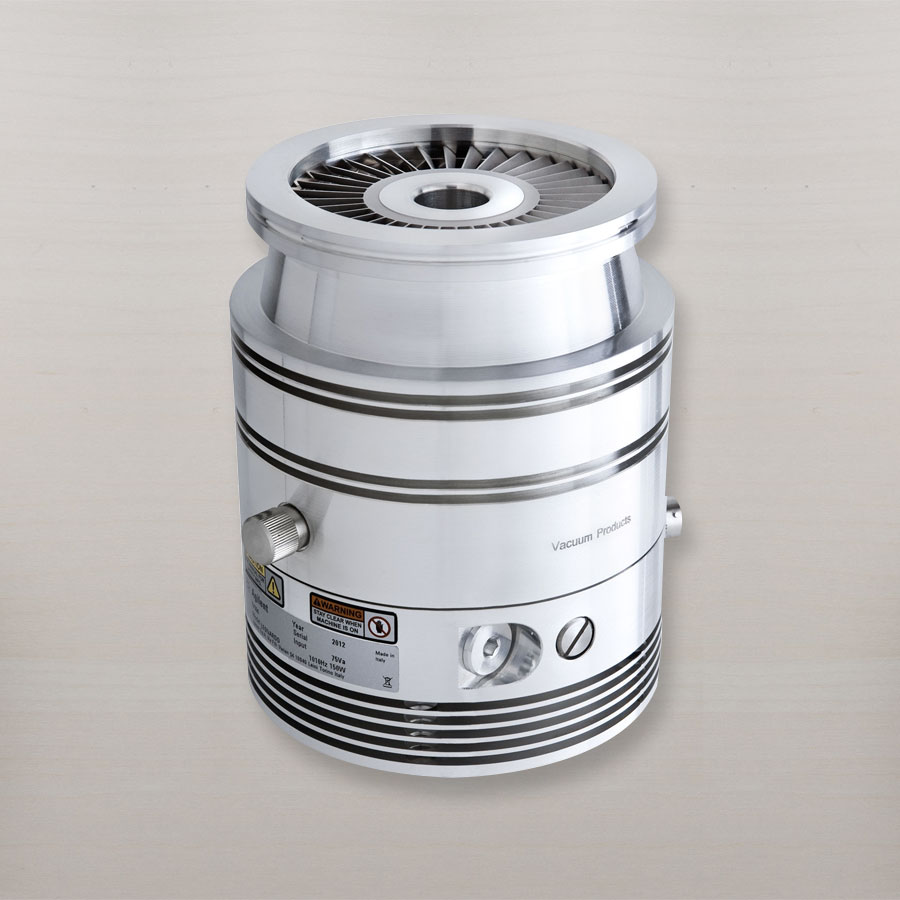 V704FS
Technical Specifications
Inlet Flange:
ISO 160, CF 200
Pumping Speed, L/S (N):
660
Pumping Speed, L/S (He):
640
Pumping Speed, L/S (H):
480
Compression Ratio (N):
1 x 10/11
Compression Ratio (He):
2 x 10/8
Compression Ratio (H):
3 x 10/6
Ultimate Pressure (mbar):
10-10
Startup Time (min):
5
Rotational Speed (rpm):
49,000
Orientation:
Any
Backing Pressure (mbar):
0.1
Outlet Flange:
NW 25
Weight (lb):
45
Price:
$16,814.00
Controller:
Rack Navigation
Ordering Information
Turbo Pumps Only
NW Inlet: N/A
ISO Inlet: X3511-64000
CF Inlet: X3511-64002
Controller
X3501-64016
Pump Cable (3m)
N/A
Cooling Kit
Air: X3501-68001
Water: 9699347
Inlet Screen
NW: N/A
ISO: 9699304
CF: 9699304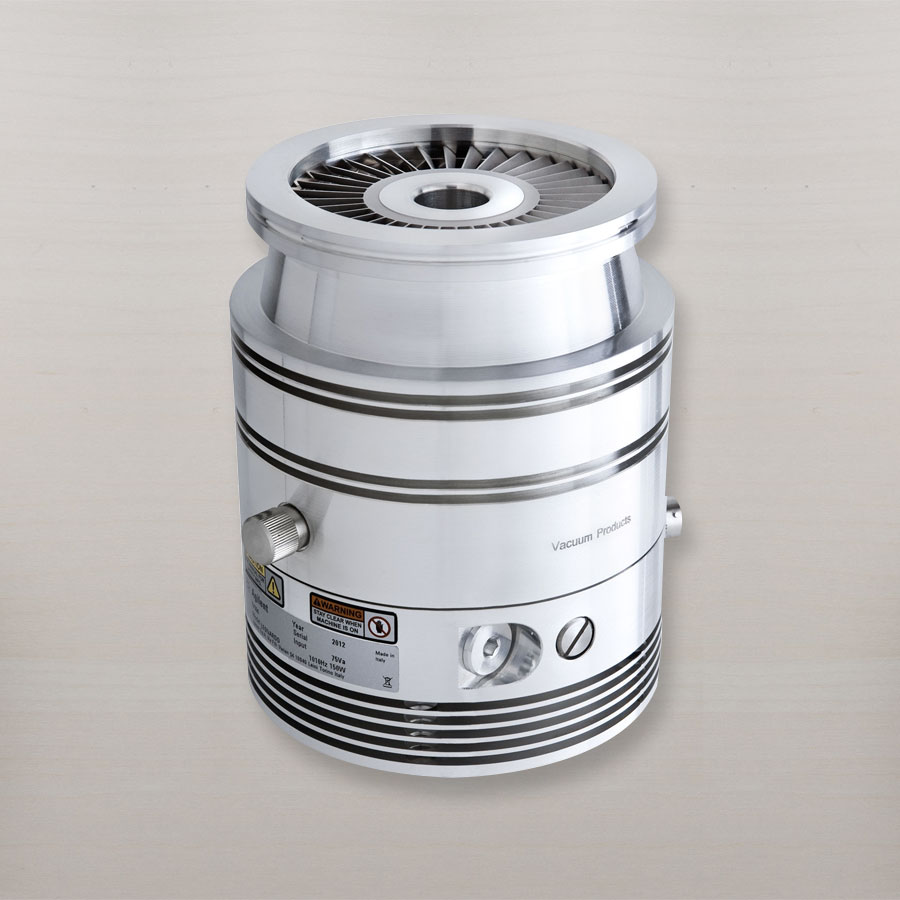 V804FS
Technical Specifications
Inlet Flange:
ISO 200, CF 200
Pumping Speed, L/S (N):
720
Pumping Speed, L/S (He):
660
Pumping Speed, L/S (H):
485
Compression Ratio (N):
1 x 10/11
Compression Ratio (He):
2 x 10/8
Compression Ratio (H):
3 x 10/6
Ultimate Pressure (mbar):
10-10
Startup Time (min):
5
Rotational Speed (rpm):
49,000
Orientation:
Any
Backing Pressure (mbar):
0.1
Outlet Flange:
NW 25
Weight (lb):
45
Price:
$20,537.00
Controller:
Rack Navigation
Ordering Information
Turbo Pumps Only
NW Inlet: N/A
ISO Inlet: X3511-64007
CF Inlet: X3511-64011
Controller
X3501-64016
Pump Cable (3m)
N/A
Cooling Kit
Air: X3501-68001
Water: 9699347
Inlet Screen
NW: N/A
ISO: 9699304
CF: 9699304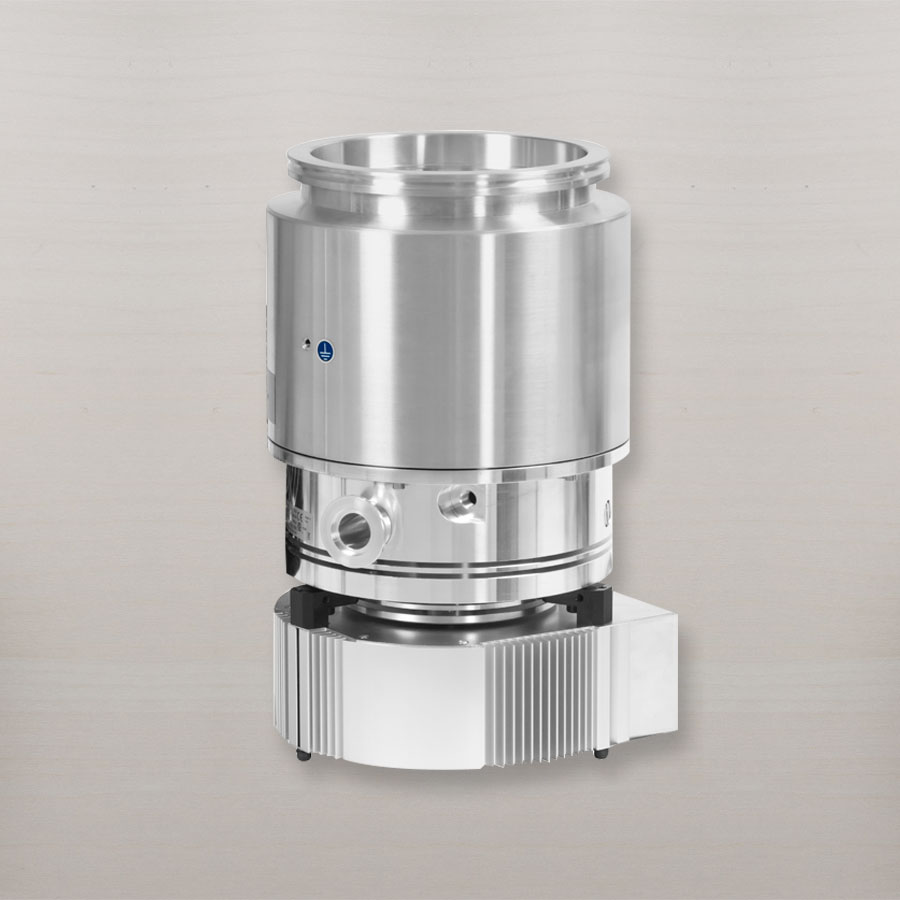 V551
Technical Specifications
Inlet Flange:
ISO 100, CF 100, ISO 160, CF 160
Pumping Speed, L/S (N):
550
Pumping Speed, L/S (He):
600
Pumping Speed, L/S (H):
510
Compression Ratio (N):
1 x 10/9
Compression Ratio (He):
1 x 10/7
Compression Ratio (H):
1 x 10/6
Ultimate Pressure (mbar):
10 – 10
Startup Time (min):
5
Rotational Speed (rpm):
42,000
Orientation:
Any
Backing Pressure (mbar):
0.1
Outlet Flange:
NW 25
Weight (lb):
43
Price:
$15,316.00
Controller:
Rack Navigation
Ordering Information
Turbo Pumps Only
NW Inlet: N/A
ISO Inlet: 9698922
CF Inlet: 9698923
ISO Inlet: 9698924
CF Inlet: 9698925
Controller
Rack 110V: 9699544
Pump Cable (3m)
N/A
Cooling Kit
Air: 9699314
Water: 9699347
Inlet Screen
NW: N/A
ISO: 9699299
CF: 9699304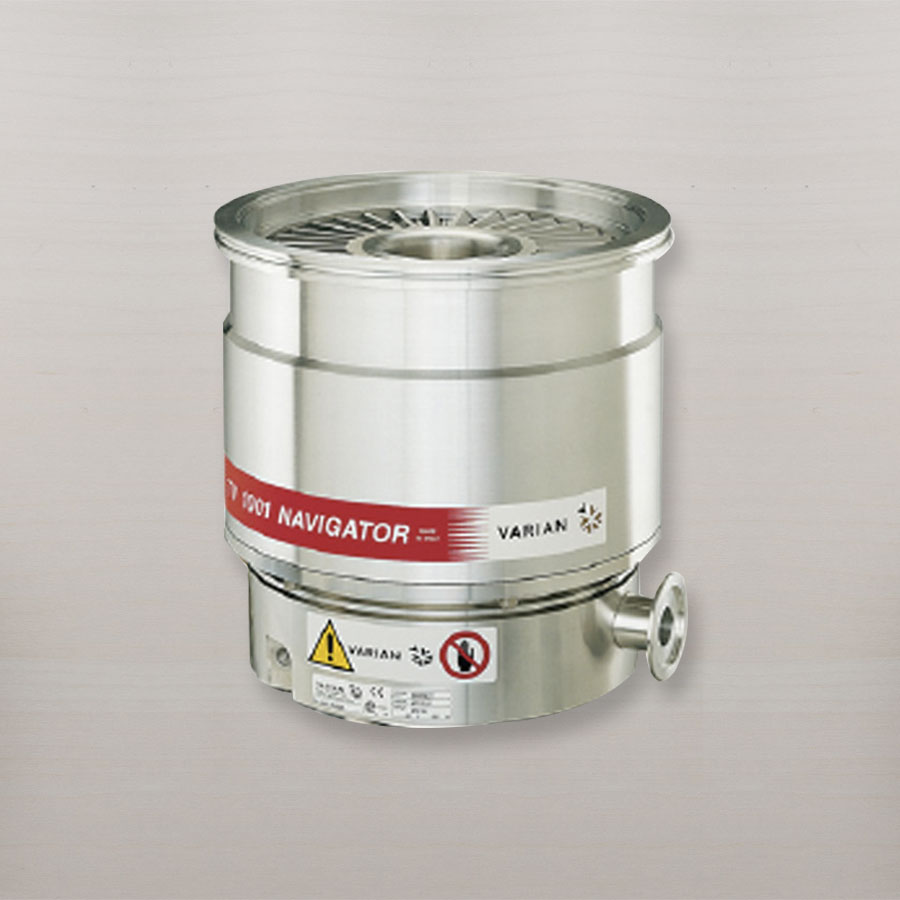 V1001
Technical Specifications
Inlet Flange:
ISO 200, CF 200, ISO 250
Pumping Speed, L/S (N):
1050
Pumping Speed, L/S (He):
900
Pumping Speed, L/S (H):
920
Compression Ratio (N):
1 x 10/9
Compression Ratio (He):
5 x 10/7
Compression Ratio (H):
2 x 10/6
Ultimate Pressure (mbar):
10-10
Startup Time (min):
4
Rotational Speed (rpm):
38,000
Orientation:
Any
Backing Pressure (mbar):
0.1
Outlet Flange:
NW 40
Weight (lb):
54
Price:
$22,491.00
Controller:
Rack Navigation
Ordering Information
Turbo Pumps Only
NW Inlet: N/A
ISO Inlet: 9698831
CF Inlet: 9698832
ISO Inlet: 9698934
CF Inlet: N/A
Controller
Rack 110V: 9699554
Pump Cable (3m)
9699958
Cooling Kit
Air: 9699315
Water: 9699337
Inlet Screen
NW: N/A
ISO: 9699350
CF: N/A